Kids of these days are wiz, no doubt. When it comes to prove your tech-knowledge, you need to compete with equally brainy people.
That is what happened at the TCS IT WIZ, Chennai on Aug. 18, 2011 held at the Music Academy.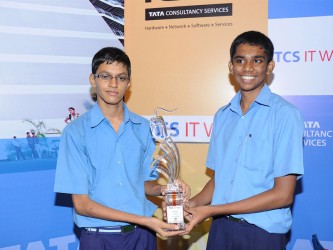 After a tough prelims as described by the quiz master Pickbrain Bala, six teams went up on stage to fight for the first place in the regional finals. DAV Boys, Mogappair, PSBB KK Nagar, SBOA, Bala Vidya Mandir, Chettinad Vidyashram  and Hindu Sr.Sec School  were the teams picking up all the points at the finals.
From the first round Team SBOA was maintaining the lead followed by Bala Vidya Mandir. The same trend continued till the end of the show and the winners were the team from SBOA represented by Aditthya and Gokul.
The runners up were the team from Bala Vidya Mandir  with Vishal and Rishi Rajashekaran in the team.
>>>We invite Chennai city schools to share the achievements of their students in contests with YOCee. Get the news published online >>>