When we think Golu the first thing that comes to our minds is getting dressed in those awfully hot and sticky silks and going to someone's house or inviting people over to see a bunch of dolls arranged neatly on steps depicting mythological scenes, village scenes, dance scenes etc. If one, tried to tamper with them we would be sure to get a yelling from our mothers!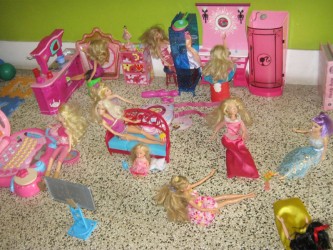 But here it is – A Golu with a twist! Mrs. Mala Bharath along with her daughters Maanya and Mahita has come up with a Golu made of toys and those are not clay or wooden toys but those which are used by children to play with every day – Barbies, Elmos, Teddies etc.
"My Daughter Maanya wanted a golu after seeing one in other people's houses," says Mrs. Mala Bharath with a laugh. "So she started setting up all her toys. I have just pitched in with ideas."
So, here is how it looks.
It starts out with an index placed outside the house. They consist of a toy from each of the themes wearing a sash with the theme written on it like 'Teddy terrain', 'Barbie house', 'Toy library' and other such interesting themes.
In 'Toy Library' a set of toys sit reading their books very seriously ( they are probably more studious than us!) Barbie's house shows a a gang of friends living together, enjoying life doing each other's hair, talking and reminding us of our own lives.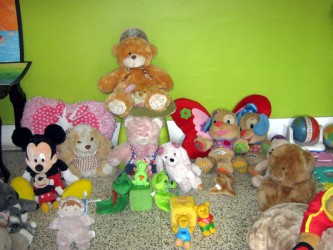 Teddy Terrain shows a miniature kingdom of teddies watching shows, going to toy hospital playing and watching the world go by.
There is also a really cute scene called the 'Toy Hospital' where there is a fluffy ( not so scary) pink python on guard while the doctors tend to their poor wounded patients!! Imagine- a pink python? We can only think of pink panthers!!
The Golu really brings out the little kid in you. It makes you want to be a three-year-old again and go and play with Barbies and Teddies, as said in the movie Three Idiots, "Give me some rain, Give me another chance I want to grow up again"!
This is one Golu which is 'out of the box' and has kids really interested.