Hot summer or cool winter, herbal juice is ready for the diet quenchers at this park in the K K Nagar neighbourhood.
Early morning any one passing by Shivan park in K.K.Nagar, cannot miss the banner printed in Tamil as 'Agathiyar Kumari Katrazhi juice' on the opposite side.
This banner with a Shirdi Saibaba's image displays a list of diseases and herbs that cures the diseases.
Mr. K. Vijay, who is an A/c mechanic is the owner of this herbal juice stall. His assistant Mr. Suresh is a tailor and sells the herbal juices as part time.
Vijay's brother was the one who taught him how to prepare this juice. Vijay is running his juice shop for more than 8 years successfully in Marina beach with many customers increasing day by day.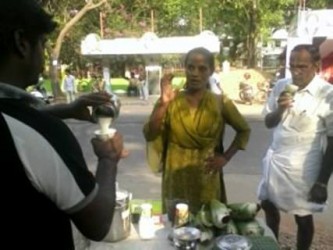 Vijay is social caring and is ready to teach the public how to prepare herbal medicinal juices and the medicinal values of the juices. He also takes bulk orders and home delivery is done for free. Both Vijay and Suresh are very proud about their part time job which gives them much satisfaction and makes a good earning opportunity.
You can check the juices out at the Shivan park and for bulk orders contact Vijay at phone number 90941 56609