After a long time, I finally got to go to school! It was an amazing experience for me, after one and a half years! I had a wonderful time in school!
The digital classes which have been going on for almost two years, were not that enjoyable for me because they gave a lot of strain for the eyes to sit in front of the laptop for three hours, continuously. Of course, learning online has brought us a completely different experience. It has had both advantages. For example, the opportunity for learning more about computers, reducing the risks of getting infectious diseases and help parents to spend more time with their kids which may not be possible during normal times. And disadvantages such as, too much screen time, no fixed routine and a disproportionate playing time.
I was literally looking forward to going to school and it was then that I got to know the Government has allowed schools to start for children of my age, of course, with a lot of precautions.
I got an intimation from the school and asked the parents to give their consent to allow their children to go to school. I was pleading with my parents to give consent for me and promised that I would abide by all the regulations that the school had stipulated. After they sent the consent to the school, we marched to the shop to get the uniform and my pleasure just got multiplied.
At the school, the staff checked our temperature and gave us sanitisers. If anyone got sanitisers during normal times it was surprising. But, now sanitisers are part of everyone's schoolbag. We were told to strictly practise social distancing and wear masks. They then took us to our classes. Only one student was allowed to sit at each desk. Even though there were many such unusual rules, school is fun.
We got to meet our new teachers in person and all our classmates after a long time. we were very excited to discover our new building in the school. Although I had seen my teachers on the computer screen many times, it was a different experience to see them in real. I guess it was a new experience for them too, as they called each of us by guessing our names, by comparing the image and real face they saw. I was very happy that many teachers recognised me even though they saw me in real for the first time.
When we went to class on the first day, there were 20 students, perfect for our class. We all had an amazing first day in school. As soon as we went, we were hardly able to tell who is who! All my friends had grown taller and were difficult to identify!
During normal times, as we go to school, we would go to the class without waiting for others. But in this Corona time, queued up to enter our classroom. Wearing masks and going to school was also so different! Our teachers looked different with their masks on and so did my friends. I met my last year English teacher and when she recognised me, I felt as if I was still in 7th grade. Many of us couldn't recognise our teachers!
There is a rule which says, in one class only 20 students are allowed. But day by day, new students were joining the offline school and we got 23 students. Due to this, our teacher asked "who would like to go to the other section? We need two volunteers." And guess what! No one wanted to go, including me! Hence we were shifted to a large hall with a board and benches and desks to sit. Everyone was accommodated in one class.
There was another funny incident – on the first day of school, during the last period, we had to recite our school prayer. Unfortunately, no one remembered. After one and a half years of online school, we all had forgotten our prayer! My friend who was sitting on the next bench said, "I know half of the prayer." She asked me if I knew the other half; but I thought she was asking if I remembered the other prayer and I said, "Yes!" She recited half of the prayer and then told me to continue! I said, "I don't know this prayer, I meant the other one!" Everyone, including the teacher, started giggling.
I hope it continues and slowly, things get back to normal. I enjoy going to school and I'm sure you all would love to. I eagerly await the day COVID-19 disappears from our world and life gets back to normal. Stay safe everyone, ensure all safety protocols and enjoy your school!
---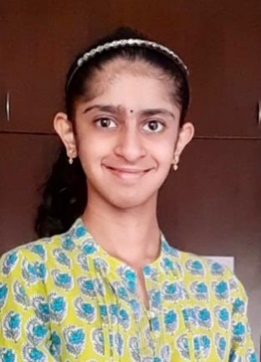 Maitreyi is a 15-year-old girl studying in 9th grade in the garden city of India, Bangalore. She is a very passionate animal lover. Loves reading and writing poems and blogs. She is also a budding Classical dancer and singer. Her hobbies include drawing, painting, cooking, travelling. She likes to be associated with nature and animals in her daily life, in some way.