Manya Harsha is just 11-year old, and she is inspiring our generation to take action against our behaviour that has been ravaging the Earth.
She is very passionate about the environment and humanity's effect on it; she has been rallying since she was 6 years old. Her work on the Markonalli Dam water bed has been extolled by the United Nations Water! At age 8, she led a children's walkathon in her community to increase awareness concerning saving water. She has also handed out paper bags to local shopkeepers as an alternative to the plastic bags that make up so much of our world's waste.
Manya now turns kitchen waste into papers. These papers are eco-friendly, act just like regular papers, and will decompose if you place them in the soil!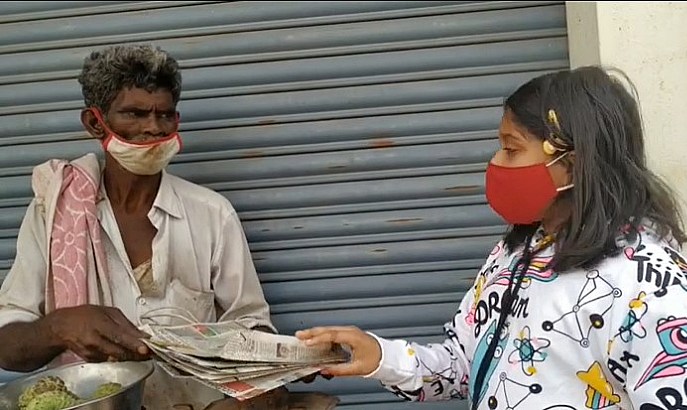 If you'd like something to do with the extra vegetable/kitchen waste you have, you can make two or three  A4 sheets of paper out of 10 onion peels, using Manya's method. She recommends using these over the regular paper, which goes through extensive processing including chemicals and large amounts of water wastage. She recently made an Indian national flag using different colours of paper stuck together for India's Independence Day on August 15, to motivate people to use such recycled papers in various ways.
Fact — 1 ton of paper is made out of 17-20 trees, and processing it uses 26,000-28,000 litres of water!
An interview with Manya Harsha
Q: Does your method of making paper out of vegetable peels work with fruit peels (like oranges, mangoes, dragonfruit, etc.)?
A: Yes, I have tried it out with pomegranate and orange peels. There are a few more experiments going on.
The main content needed for paper making is cellulose; if the pulp is rich in fibre, we can make fine papers out of it (with an appropriate binding agent, which depends on each type of peel used).
Q: Also, does it work with flower petals (like the ones used in Pookalams) or banana leaves (like those used in Sadhya)?
A: Yes, definitely. I have tried with rose petals, marigolds, definitely banana leaves, betel leaves, etc. The thing is, banana leaves are rich in fibre; we need to nicely pulp them. Then, add appropriate binding agents (which is different from other peels) and then go ahead with the process, otherwise, it ends up in a disaster.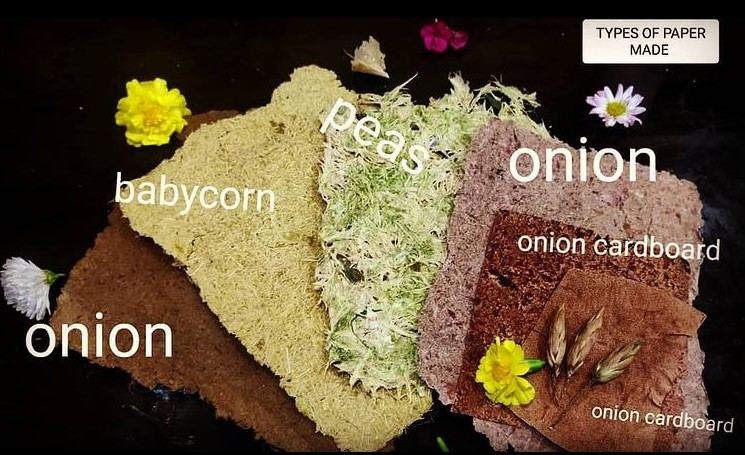 Q: Have you approached people in your area/neighbourhood about making vegetable paper Indian flags instead of plastic or synthetic ones?
A: I help whoever shows interest in this paper-making in the basic steps. Well, I can only take the horse to water, I cannot force it to drink.
I have received a few messages who say it didn't work out on their first attempt. Here is what I did: I tried for nearly 6 months, without giving up and with different binding agents to get the form of a perfect paper.  These papers are 100% chemical-free, all you need is a little bit of patience.
Q: How do you approach people who aren't open-minded, or are sceptical of your cause (if you have met such people)?
A: Critics are anywhere and everywhere. Many people doubt if this is really a paper. Many have questioned if we can write on it. To all the queries, the simple answer is – yes, this is eco-friendly paper, made at home from kitchen waste. You can use vegetable peels, fruit peels, coconut husk, etc. as the main ingredient mixed with various binding agents.
I haven't met any such people in person. While I have received an ocean of praise and support for my work globally, 10 out of 1000 comments say things like –  "Now papers will be licked", "How will you be able to write on them?", "What have you got to do with this?".
My message to the world is – "Friends, we all know by now that climate change is real, and the reason behind it is Man's Greed. So start joining hands for #climateaction, it's now or never! We as humans can start doing our bit to Mother Nature by switching to sustainable living. Times are not far when the wars for land and gold will be replaced by wars for water and food. We'd better change before it's too late.
Even a single step towards waste management or sustainable living must be wholeheartedly welcomed; this boosts oneself to continue their act towards the green planet."
Here is Manya's perfected recipe for paper made of vegetable waste:
Gather the peels of different vegetables. Different peels may yield different colours of paper. Pea peels make green paper, onion peels make purple paper, and so on.
With some water and a spoon of baking soda (it helps the peels soften), cook the peels in a pressure cooker for around 3 hours.
Next, grind this substance to get a pulp.
Mix fresh water with it.
Spread this mixture on a flat surface (such as a countertop or cutting board). Ensure that there is no excess water.
Leave it there overnight. After it has dried, you should have some vegetable peel paper, ready to use!
Manya is a compelling and fresh voice in the field of environmental activism today and one that will surely be the call to action for much of the world's youth.
Manya's writing on the environmental awareness
Manya has published five original books (3 in English and 2 in Kannada) becoming the youngest author to write in Kannada (among other records), with her book, Neerina Putani Samrakshkaru (The Water Heroes).
Nature Our Future – A collection of 55 poems about our environment
The Water Heroes – The English version of Neerina Putani Samrakshkaru, highlighting the importance of conserving water.
During the pandemic, Manya Harsha has published a book of lockdown diary –  Once Upon a Time in 2020 : (The Lockdown Diaries) in both English and Kannada (ಒಂದಾನೊಂದು ಕಾಲದಲ್ಲಿ 2020 (ಲಾಕ್ಡೌನ್ ನೆನಪುಗಳು))
If you'd like to know more about Manya Harsha and her cause, check out her blog.
Images from Manya Harsha's Instagram page.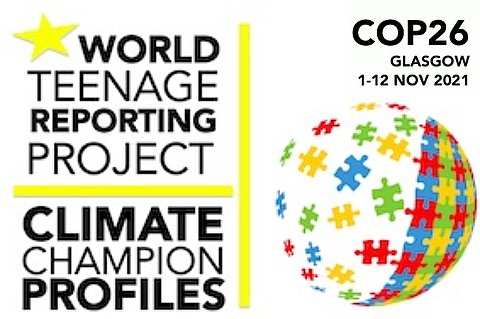 ---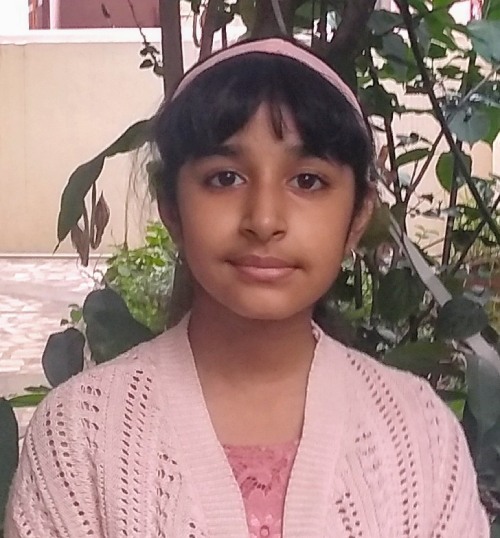 Daya, 12, loves books, languages, music and animals. She is passionate about climate issues and human/animal rights. She would like to go to Hogwarts someday (and she would have if not for some very dedicated house elf)!