An evening remembering the maestro Mandolin Srinivas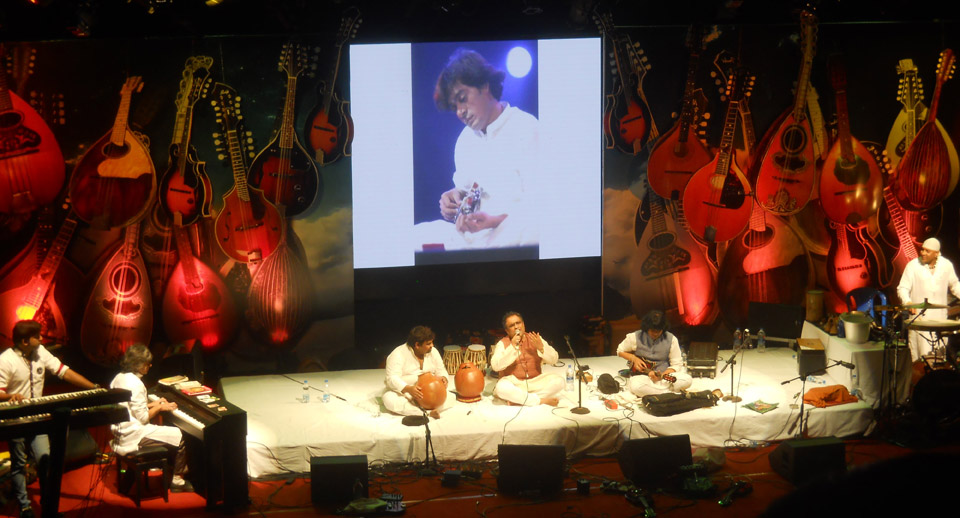 It was a night to remember for the music fans of Chennai. The birthday of late mandolin U. Shrinivas. U. Shrinivas, who was a world renowned mandolin player passed away on September 19, 2014. 'The GREAT MANdolin' concert was held at Music Academy to honour and remember him on Feb. 28, 2015. It was hosted by 'SS international live'.
The evening saw the coming together of great musical giants – Pandit Shiv Kumar Sharma (santoor) Takahiro Arai, who accompanied Sharma. Ustad Zakir Hussain (tabla), Vikku Vinayakaram and Umashankar (ghatam), Sivamani and Ranjit Barot (drums), V. Selvaganesh (kanjira), Harmeet and Anil Srinivasan (piano), Stephen Devassy (keyboard), Hariharan, Shankar Mahadevan, Aruna Sairam, Karthik and Kunal Ganjawala (vocal), U. Rajesh (mandolin) and Devisri Prasad who played a video orchestration of his Guru U. Shrinivas' composition. It was a pleasure to watch them all together on the stage.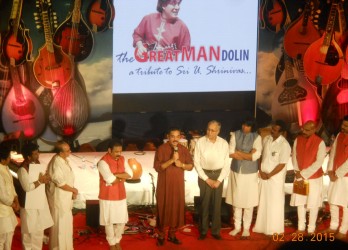 The chief guest for the evening was the renowned actor Kamal Hassan who remembered the great soul that was mandolin U. Shrinivas. The guest of honour 'Isaignani' (maestro) Illayaraja gave away the SIOWM (Shrinivas Institute of World Music) award for senior artiste which contains a cash award of Rs. 1,01, 000 to Vikku Vinayakaram and junior artiste (cash prize Rs. 51,000) to Harmeet. Illayaraja recalled the memory of the 12-year boy Shrinivas coming into his studio when he recognised the prodigious talent of the boy. Several students of mandolin U.Srinivas paid their tribute by playing the mandolin. An audio visual presentation on mandolin U. Shrinivas' life and musical contribution was also screened. While SS international live's Elango Kumanan compered the 4-hour long program in beautiful Tamil, Ustad Zakir Hussain entertained the audience with his humorous remarks.
---
---