Tough and talented!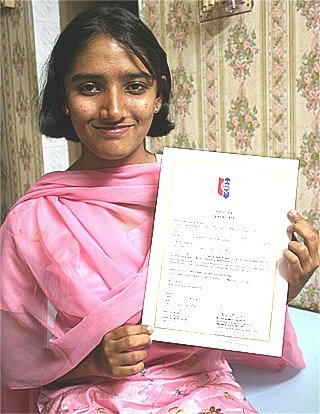 Talented, soft-spoken and musically interested, Aishwarya Varshini a student of class 11 of DAV Girls Senior Secondary School has won a silver medal at the national level in National Cadet Corps (NCC) this year.
She joined the NCC when she was in class 8. Varshini is interested in Carnatic music and she wanted to overcome the shyness to be a good stage singer.
She says, "I did not know what or how NCC would be when I joined. The main reason for my joining the NCC was to become stronger."
"However after joining it helped me a lot to develop all round qualities like being independent, tough and also overcoming my shyness" she confides.
She is good in singing and also in academics. She started learning music when she was six years old and continued her training under guru Sitamani Srinivasan till recently. She is now concentrating more on her studies in class 11 and 12.
Varshini is thankful to her NCC teacher Ramavathi. She says that her teacher was instrumental in making the NCC camps interesting. Varshini has participated in various competitions especially singing and represented her school, on a few occasions.
Her medal taking tests were quite tough, she said. "I knew I would get a medal. I expected a gold medal but I got only the silver. Yet, I am happy about it", she says.
She wants to pursue her technical education in IIT and wants to do a M.S. after graduation.
---