'Malleshwaram Hogana!, that translates from Kannada to 'Let's go to Malleshwaram!', a project to support the #BengaluruMoving campaign organised a virtual trail on July 11, 2021. A team of 13 artists from Geechugalu, an artists' collective, collaborated to create 12 pieces of street art and showcased them through a free Virtual Art Walk that was conducted through Zoom and Facebook Live.
Malleshwaram Hogana!, was devised to connect people to one of the oldest localities in Bangalore and raise funds for Hasiru Dala, an organisation focused on providing justice for the waste pickers of Bengaluru. The art walk was curated by Gully Tours, with plenty of interaction with the local artists behind it. From the 18th cross bus bay to the bustling 8th cross, the walk explored Malleshwaram through what most people see and also shed light on the lesser-known history of the area.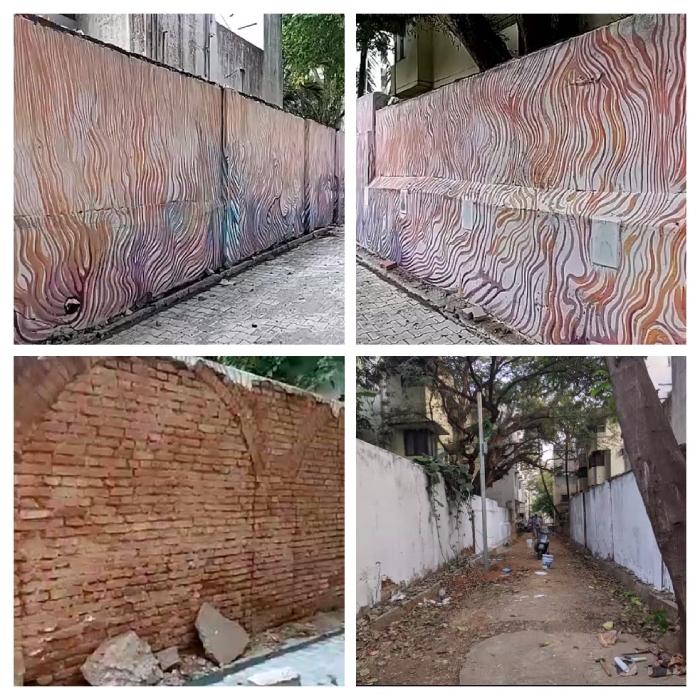 The main focus of the walk was to spotlight the pourakarmikas (waste-pickers) of Malleshwaram and their experiences. Malleshwaram was built with a conservancy lane behind every street, where the waste-pickers were to do their work without 'disturbing' the residents. They were forbidden even to turn their face towards anyone 'above' them and were barely treated as human beings. But the existence of these lanes has always been overshadowed by the main roads and markets of Malleshwaram. Many residents were unaware of this concept. But slowly, this has changed, and the people of Malleshwaram have begun reclaiming the lanes. When Amitabh Kumar began repainting the walls of a conservancy lane, locals were anything but hostile. Residents of one building even decided to build a back gate to combat the historical attitude that had been held against such lanes!
Each of these artists made multiple visits to the streets to understand the life of the people and their connect with the locality. Watch the artists speaking about their work in these videos.
Conversations with the organisers and participants
Q: How did the idea develop from representing Malleshwaram as a whole to shining the spotlight on the pourakarmikas and their experiences?

Yash Bhandari, Creative Lead, Geechugalu: 'Geechugalu' as a collective has been thinking about place-based narratives since the collective's emergence in 2016 and inhabitation of a site (Dhanwantri road towards Majestic) with the purpose of creating narrative graphic atmospheres in the city of Bengaluru.
It was apparent to us that we were not the primary custodians of the site, as we noticed the pourakarmikas were first to turn up on-site and clean up the stretch to make it livable for the rest of the city. It was on the persisted experience of interaction and exchanges with them that we developed a strong emotional connection with Pourakarmika Munniamma and her friend Narayanamma, whose portraits were painted by Param (artist Parameshwaran) in a way to compliment the theatrical culture of single-screen cinema halls inaugurating regional movies with flex printed and hand-painted portraits beside these cinema halls. The intention was to give pourakarmikas the same presence where the city is the theatre.
It was a practice we wanted to continue in Malleshwaram with Bengaluru Moving, because they make the stretches, which once had poor planning, into walkable and clean experiences, if not steady. Every street or two has a different pourakarmika, and if we are continued to be supported by the community across Bangalore, the least we can do is honour them and make their presence visible after they have done their work. That is how we challenged the casteist representation in Malleshwaram."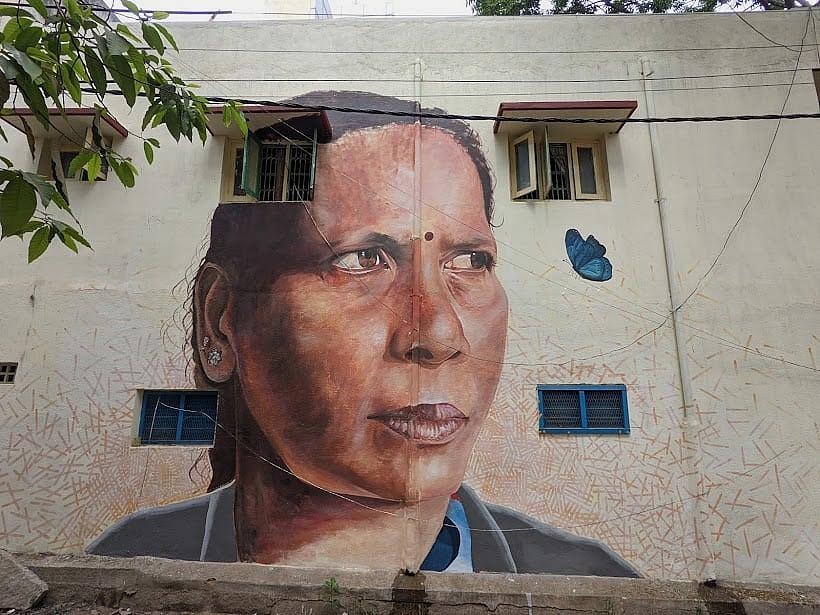 Gowri Omanakuttan, Campaigner, Bengaluru Moving: Highlighting the work and importance of pourakarmikas is crucial to representing Malleshwaram, and honestly not just Malleshwaram, to any locality. Pourakarmikas and the larger waste management system form an invisible workforce and their ownership over the maintenance of a locality significantly shape the experiences of neighbourhoods for both residents and 'visitors'. To imagine neighbourhoods that are walking-friendly would be incomplete without acknowledging their ownership.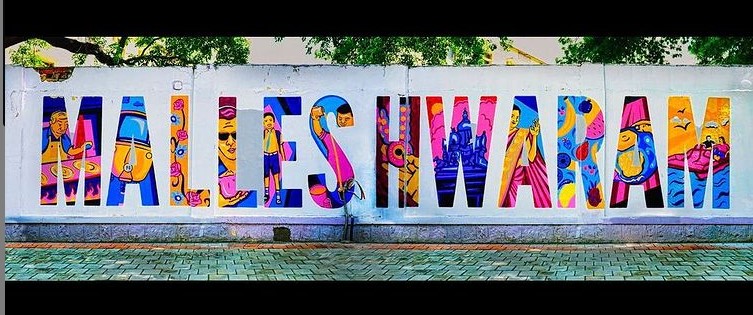 Geechugalu and the invited artists brought this perspective to the campaign by reflecting on what it means to be a neighbourhood like Malleshwaram to be walking-friendly. All the 13 artists who have been part of this project have brought their own experiences and interpretations, while artists like Chandana BV, Shivu Mahesh and Spandana Vella reminisce some of the defining characteristics of Malleshwaram like the endangered sparrows, handmade candy sellers and missing Sampige trees; artists like Enoch Dheeraj Ebenezer, ShreeVyas and Saksham Verma are more representational of what Malleshwaram is traditionally famous for; artists like Amitabh wanted to create a sensory experience, a possible getaway for the residents to experience a quiet moment. The work of Girija Hariharan, featured as the first image on top of this article, also speaks directly to your question, she acknowledges the history of conservancy lanes and highlights the shift in outlook towards these lanes.
The work of Anpu Varkey on the other hand, speaks to the idea of 'movement and motion' of a woman mid-stride. To me, all these interpretations and representations cohesively represent Malleshwaram."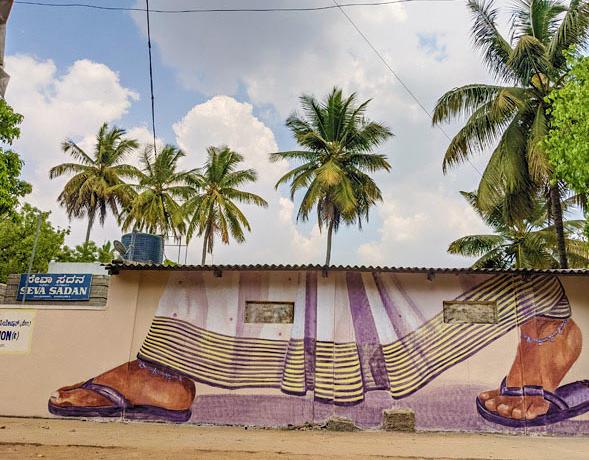 Q: The places chosen for the artwork are varied; some were in conservancy lanes and some were not. Apart from the bus bay and 8th cross, was there some significance behind this?
Yash Bhandari: The narrative trail was an emergent planning, as we based our earlier wanderings of the area on the work being done by Malleshwaram Urban Living lab – mainly Sensing Local and Malleshwaram Social. The idea was to support their work along with moving into the heart of Malleshwaram (which is the 8th cross), behind the post office which is actually a conservancy lane but has been fully transformed into a motorized lane now, unfortunately.
It's important for creative practices to also highlight the labour of other creative practices, so Seva Sadan was a connection, not on the conservancy to put it back on the cultural experience via our work. It was strategic, so it continues to harbour life beyond our work.
The conservancy lane post office Yash speaks about here was painted by Abhijeet Rao as a part of this program. He painted a 3-dimensional-looking postcard and it's named 'Post It!'.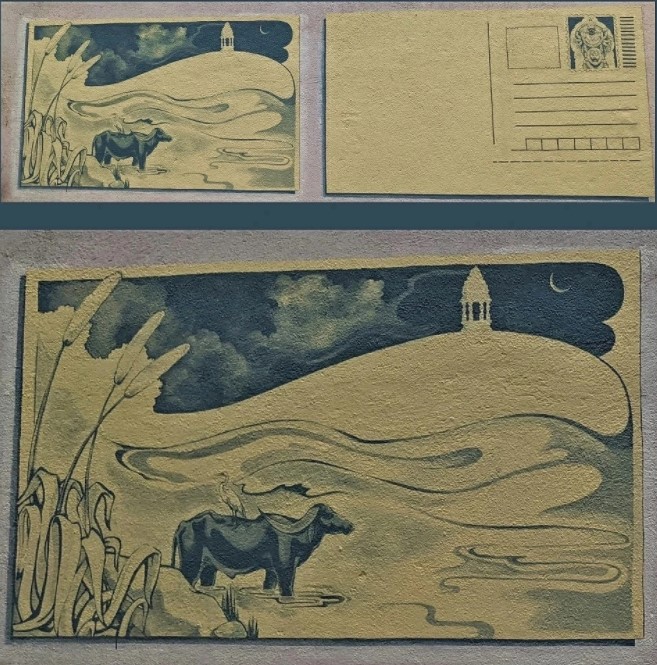 Gowri Omanakuttan: The formation of the trail was a collaborative exercise between the sites/walls that resonated with the artists and the work being done in Malleshwaram by the resident welfare association – Malleshwaram Social and Sensing Local under 'Walkable Malleshwaram' to assess and improve walkability within Malleshwaram.
Q: Are there similar events being conducted by Geechugalu or Gully Tours in the near future?
Vinay Parameswarappa, Gully Tours: Yes, we from Gully Tours plan to regularly do Malleshwaram Hogona! as a physical art walk once the situation on the ground improves.
Yash Bhandari: In internal discussions, there has been some encouragement for each Geechugalu member to conduct a walk of their own to take a prospective audience through the Malleshwaram that exists in their hearts. We'd love to conduct some on our own in order to mobilise funds for the next phase so that people get to directly meet the artist and see the site before it's worked on and have experience of their contributions translated into creative or community action. That is the ideal goal. It is key to pay the artists and community that is place guarding the locality against gentrification.
We'd obviously like to continue with Gully Tours, who are professionals at conducting walks because it would be an audience from a different demographic, given their x years of work in the field. I think Vinay brings a very thorough experience to this.
Gowri Omanakuttan: Absolutely! The project hopes that more people explore these lanes through thoughtfully curated walks and experiences organised by Gully Tours and even independently using the map of the trail. I believe Geechugalu's experiences of this project will benefit anyone who is curious.
Would you like to visit these spots yourself? Take a look at Malleshwaram Hogana's brochure map.
If you would like to support their noble cause, please donate at https://www.ketto.org/malleswaram-hogona-supporting-hasiru-dala and/or share the link with others who would also want to.
All images courtesy Geechugalu & Bangalore Moving
---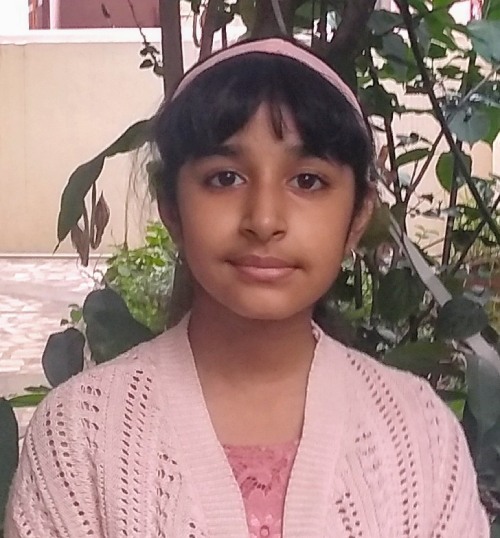 Daya, 12, loves books, languages, music and animals. She is passionate about climate issues and human/animal rights. She would like to go to Hogwarts someday (and she would have if not for some very dedicated house elf)!