"Common sense isn't so common after all" – this is one among the many philosophical quotes that one gets to find in the 115-page novel, by Tejas A.
Tejas, a class 12 student of Chettinad Vidyashram, has recently published his debut novel, "Of Thoughts", which takes the reader on a philosophical journey through various aspects of life. Not only does the novelette help readers reform themselves, but it also provides insightful concepts that guide one in living a healthier and optimistic life.
When asked why he chose to write on philosophy, Tejas replies beamingly, "As you know, 'we think, therefore we are'. Humans are gifted with the ability to think. And it is this ability of ours that gives rise to philosophy. This is why philosophy, the science of sciences, is a universal language in one way, and it is this aspect of the subject which interests me the most, and which drove me to write my book."
During the journey of writing his book, the young writer discovered that the scope of philosophy in everyday life and its usefulness lies in overcoming challenging obstacles. This motivated him to write his book which brings together the ideas of various philosophers such as Camus, Nietzsche and many others into a one-stop place for readers of all age groups, making it an easily comprehensible manual to aspects of philosophy and everyday life.
"Writing this book has been a way to explore myself," says Tejas enthusiastically. "I have been opened to so many new concepts such as Arthur Schopenhauer's prison philosophy and thought-provoking concepts like searching for optimism that lies in pessimism. Overall, this experience has been an enriching one."
"Of Thoughts" is a book for all categories of readers that possess the fortitude to reform their thoughts and opinions and develop a strong candour. As Tejas puts it, "the book is open to those who wish to bring a change to their mentality."
"Managing schoolwork while writing the book was a little challenging," admits the high-school student. "However, I am happy that I was able to complete the book in 3 months."
Among the few sources used by Tejas, the ideas of Albert Camus – "elegantly absurd" as he describes them – were important contributors that fuelled the creation of his book.
"I am grateful towards Mr. Jagan, my math teacher of class 10 for believing in me and playing a pivotal role in my life," he says. "Writing this book was a wonderful experience, and I am extremely satisfied to have shared my ideas with the world."
---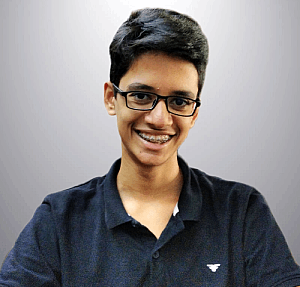 Hussain, 16, is an avid reader and writer. He has a keen interest in water sports such as sailing, surfing, and stand-up paddling.