At the moment, I have many careers that I would like to pursue. Since I was little, I have always wanted to make an impact in the world, to be remembered. My career options reflect that.
Firstly, I have always wanted to be an astronaut. Space and everything beyond it intrigue me more than you could imagine. I would love to contribute to the next generation's knowledge about what is beyond our planet and how it affects us.
Secondly, law is an option that has been in the back of my mind. I want to get justice for wrongly convicted people and reverse the death penalty. Discrimination rampages our legal system, based on race, colour, gender, who we love, and more. To change these things is one of my life-long goals.
The earliest career that I remember wanting to pursue is acting. I have always been told that I am a good actress, and that I express emotions well. While I would leave that for audiences to decide, I do love acting, since it helps me be a more empathetic person sometimes, by learning how to put myself in others' shoes.
Since I started writing, it has definitely been a job that I want to take up. I love learning about new people and their stories, as well as making up my own characters and worlds very different from ours.
I take vocal lessons in Hindustani classical and am an avid music fan. I come from a very musical family, which does make me think about taking up music as a career. I love how it can express your emotions without saying a single word.
I have also always loved teaching. Although this isn't an option that will give me a very big platform to express myself, I love little children and their unique mindsets. It makes me think about life in a different way. A teacher is an invaluable part of one's life, and I would love to be that for someone.
Lastly, I would like to be a therapist. People need someone to help them during their darkest times and make them come out of those times loving themselves and the life that they are living.
Most of my career options offer me a large platform to help others and make the world a better place. And they will help me be remembered, whether by few or many.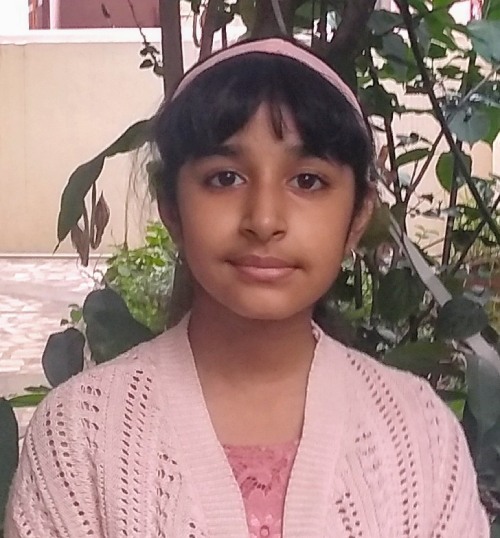 Daya, 12, loves books, languages, music and animals. She is passionate about climate issues and human/animal rights. She would like to go to Hogwarts someday (and she would have if not for some very dedicated house elf)!