The world environment day celebrations at the campus of DAV Public School, Velachery was held on June 18, 2012. The event also marked the launch of the school's Eco- club, a club consisting of students interested in environmental  activities.
Environment day is celebrated on June 5 world over. The school chose to celebrate it on the 18th, so that the Eco club could also be launched at the same time. It was kick-started at 9.30 a.m. with a short prayer followed by a welcome to all present there.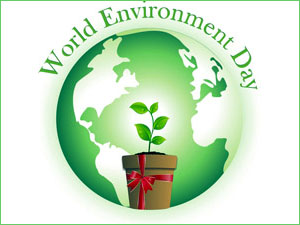 The chief guest for the day, Ms. Supraja Dharani, founder of the Tree Foundation, emphasised on the need to not only plant more trees, but also to create a 'green economy' – one with green sources of everything from food to computers.
The chief guest and the accompanying dignitaries issued around 250 saplings to students, who have a passion for green growth. Soon, the other events of the day began. Face Painting for the students of the eight grade, an advertising event for the ninth grade, based on eco- friendly products that can be advertised. The most fun, and yet suspense-filled event was the 'Just A Minute' (JAM). An event in which students spoke for a minute on the need to preserve nature while others in the session would object on the errors in their speech, such as stammering, grammar errors and so on.
One of the more serious events was a presentation by the students of class 12, in which they went around, taking photos and making observations of problems in their society, and sharing them with the audience and enlightening them as the day went on.
At the finale, the winners of the events were presented with prizes of a different kind – a sapling each and a certificate. And as the students went away, not only was there a new Eco club in the school, there was a new enlightened feeling of both awareness and the will to effect change in the minds of the students. The event was highly entertaining, informative and green.
School staff members in co-ordination with student volunteers had organised the event. It left the students with green thoughts as they moved from the grounds of the campus.