The show was titled 'From GR (G. Ramanathan) to AR (A.R. Rahman).' This dance recital took place at 7.30 pm, on Jan. 17, 2015 at The Music Academy, TTK Road as part of the 'Thai Utsav.' This event differed from other Bharatanatyam recitals that the artistes danced for slow and fast-paced film songs. It was a an innovative theme that combined film music and classical dance.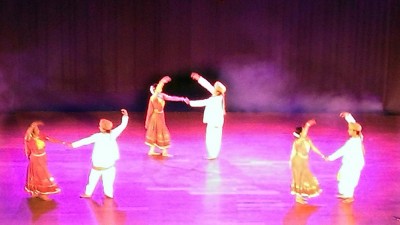 Radhika Shurajit, a senior disciple of the Dhananjayans and renowned dancer herself, choreographed the show. It covered songs by music composers from the old period to the new. It also featured a few Bollywood songs for the interests of the young crowd.
It started with an invocation to the almighty in the form of Gananayakaya, a film song by Shankar Mahadevan. A song by Ilaiyaraaja followed that. It also covered different dance forms like Koli, Dandiya and Kathak and not just Bharathanatyam. The performance was incredibly graceful and vibrant.
The moves and formations seemed simple and comprehensible, yet graceful and elegant. As the theme was out of the ordinary, the costumes were also not the usual Bharatanatyam costumes but, many innovative colourful and different costumes varying with the music. It was an engrossing performance and the audience were seated silent with awe throughout the performance as they were captivated by its beauty.
Gopika is an Economics graduate on the outside, and a writer on the inside. She used to be a student reporter for YOCee which she says, gave her the kickstart to move on to writing with her university magazine – The Context, an online news website called the Bastion, and become a peer tutor at the University Writing Centre, Her post-lockdown plan currently is to do her two-year fellowship with Teach for India