In the quest of knowledge and developing their children, more and more parents are sending their wards to school. About 18 crore children go to Corporation schools every year and yet only 25% of children in grade five can read a sentence in English. It gets worse. Less than 50% of children can read grade 2 texts when they are in grade five. These statistics were revealed by Mr. Sanjay Gupta at The Hindu Literary fest held at Lady Andal Venkatasubbarao school, recently.
However, there seems to be some hope for children in Corporation schools with introduction of technology in education. EnglishHelper Pvt. Ltd has partnered with American India Foundation to develop a software called ' Read To Me"(RTM) which is being used in 9 states in India mainly in the corporation schools. EnglishHelper was launched in 2012.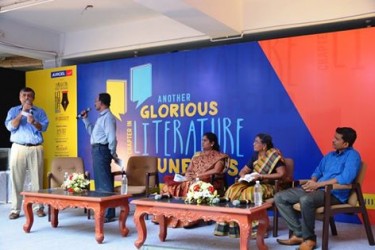 The programme 'Right To Read' held at The Hindu Literary fest had a large group of children from three Corporation schools, neatly dressed in their uniforms occupying the first few rows.Three school teachers from these schools were present along with Mr. Sanjay Gupta, CEO Global of EnglishHelper.The principal of Kodungaiyur school explained about how RTM was really helpful in attracting the attention of students.
Mary Kanagshel has been a teacher for 28 years. She is from Kodungaiyur school, however she has been teaching English for 5 years only. For her RTM saves work. It makes students interested in learning English while using RTM. According to her, the teachers in Corporation schools, only focus in making the student write. RTM helps as it not only focuses on reading and also writing.
On the pavilion, Miss Shobana teaching at Chennai High school, demonstrated a period in the classroom while using RTM. RTM is able to provide meanings, show picture equivalent for words, Synonyms, read along with the sentences at any speed and gives meanings for words in Tamil.
Solomon Raja, currently manager of KFC, reveals that while working as a waiter, he learnt English in KFC using RTM and got promoted after mastering English.
EnglishHelper Pvt. Ltd has launched a partnership with Shikshasamiti so that they could apply RTM in Maharashtra Corporation schools . RTM can be used in any class. However, very less schools use RTM in primary classes, Sanjay Gupta said.
The demonstration given by the kids present there is an ample proof that RTM indeed is shaping their future.