I have been waiting eagerly for corona to disappear and for schools to open. Though the online learning has had a different experience on all of us, we had to read, write and even learn only from home. Of course, I liked it very much and also enjoyed it. But, I feel going to school is better for everyone especially for the smaller classes (from Pre-Nursery to 4th grade), as it becomes too much screen time with classes and also TV. Sometimes I used to feel that my eyes are stressed and tired due to too much screen time. I go to dance and music classes which are also online in the 'new-normal'.
Even if school opens, there are few things I will definitely miss few things as I may not be able to experience this again.
Online learning:
Online learning while in school is a once-in-a-lifetime experience for me as I will be completing school in 2 years. But we all pray for no more illness and pandemics to attack the world. So we might not get this experience again!
Writing, learning and reading from home:
This year, due to the pandemic times, we all had to do many things from home. School, offices, colleges, play, classes….. everything was only from home. The main thing – studies was also from home. I will always cherish this experience forever (except the negative part as we should always think positive!).
Spending time with my mom, dad and grandma, as well as my friends:
My online classes always used to get over by 11 am, and so I used to finish my studies and homework by 4 pm. All my friends used to come to play by 4.30 pm and we would play till 8 pm. Once my school starts and the situation is going to be back to normal, I would come home only by 4.15 pm, and finish my studies by 7 pm. So, only on Sundays, I will be able to spend more time with my family and friends.
Playing with my toys and my pet cat:
When I feel bored and my family and friends are asleep, I play with my cat. But sometimes he too is asleep! Then what do I do? I have no option but to play with my toys. Sometimes if they are torn or broken, I act like a doctor and fix them!
As I mentioned, I also play with my cat. He is good at running and catching games. I run from him and he chases me and touches my leg, trying to tell "you're caught!" and I too do the same thing to him! We have lots of fun together!
Cooking:
Cooking is one of my favourite activities! I love to cook! 😀 When my school starts, I only get weekends to cook. As I move to a higher class, I will have a lot to study and will have to concentrate on them!
Even if I am going to miss all these things, I pray for this virus to go and for all of us to live happily again!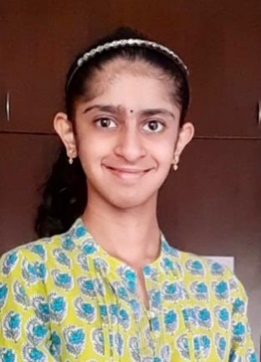 Maitreyi is a 15-year-old girl studying in 9th grade in the garden city of India, Bangalore. She is a very passionate animal lover. Loves reading and writing poems and blogs. She is also a budding Classical dancer and singer. Her hobbies include drawing, painting, cooking, travelling. She likes to be associated with nature and animals in her daily life, in some way.