Adhiti Tandle, a student reporter of YOCee had an opportunity to watch the launching of LVM3-M3 by the Indian Space Research Organisation (ISRO). She shares her experience with the readers:
Being interested in astronomy and astrophysics, I was excited to have had the opportunity to experience the launch of the LVM3-M3/ OneWeb India-2 Mission by ISRO at the launch view gallery at the Satish Dhawan Space Centre in Sriharikota on March 26, 2023.
After waking up at 4 am and going on a 4-hour car ride with my parents, I reached the launch site. On the way, I had a gorgeous view of Pulicat Lake, the second-largest brackish water lagoon in India.
At the Satish Dhawan Space Centre, there was a huge exhibition on the ground floor with a lot of model rockets and satellites of various sizes ranging from a few inches to over half a dozen feet. Many including me were enjoying the wondrous models and the extracts of information given around the room. There were also galleries and museums open for visitors to view and learn more about the work at ISRO.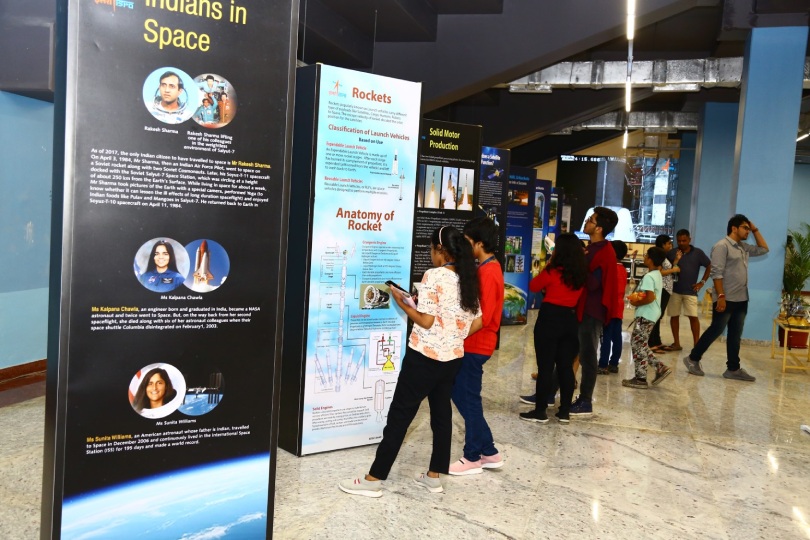 On entering the launch view gallery, I was surrounded by hundreds of people of all ages, from school students to adults. While waiting until the launch, scientists from ISRO answered questions from many of the curious students, providing interesting yet simple-to-understand information about the launch and other topics too. It was an opportunity to learn a lot about the launch from their answers as well as a poster that was handed out.
I learnt that the LVM3-M3/ OneWeb India-2 Mission involved placing 36 satellites made by the OneWeb Group Company into a 450 km Low Earth Orbit (LEO) to complete the first global Low Earth Orbit constellation and achieve global coverage for the OneWeb global communications network. I also found out that this mission helped ISRO earn Rs 1000 crores.
At 9 am, the 24.5-hour countdown was down to 20 seconds. The whole gallery chanted together, all the way from 20 to 3, 2, 1, then at 09:00:20 hours IST, liftoff! A few seconds later, I was able to see the 43.5 m LVM3-M3 liftoff with its engines ignited and bright flames below it. Its lighting was cheered on by everyone and the energy in the gallery was truly invigorating. Following its ignition, its quick ascent to the sky was accompanied by a resounding roar, and I felt a rush of adrenaline through my body.
This experience, along with being a lifetime opportunity, has heightened my interest in astrophysics. I am extremely glad I got to witness such a thrilling sight, one that I will remember forever.
Images: https://lvg.shar.gov.in/
---
Adhiti is a middle year student in school. She likes to keep fit by playing basketball and swimming. She has a keen interest in painting and dancing art forms. A student reporter at YOCee, she loves journalism.