On Friday July 6, 2012 the students of St. Mark's (they call themselves Markian's) were waiting in the assembly hall for their new student leaders of the academic year.
The correspondent announced Master H.F. Mohammed Aamir of class XII as the SPL and Miss L. Ajaya of class XI as the ASPL. They were unanimously elected by the teachers for their leaderships qualities, sportsmanship and also their academic excellence.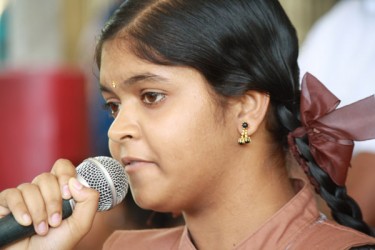 Both the SPL and ASPL took oath that they would bring honour to their school. They promised to conduct awareness programs and academic motivating sessions. They also said that would emphasise on plans to bring out the introvert students out of their shell.
On the same evening we had a felicitation program to honour the five toppers in the class X board examination of the year 2011-12.
The ASPL Ajaya who scored 492/500 set a benchmark to follow. She showed her gratitude in her speech to all those who helped her. She inspired the students when she expressed – "A Good Teacher – explains; A Superior Teacher – demonstrate; A Great Teacher – inspires!" She also thanked her class teacher Shama Bai who helps the students like a mother does.
She was all in praise for her geography teacher. Ms. Eashwari and said that she taught her and others in the class very efficiently that they could gain knowledge about anything and everything they came across.
Everyone who was present in the felicitation meeting cocncuured that the driving force to achieve this academic history was the team spirit of the correspondent, the teachers, the principal, the parents and the students and showed signs that the Markians will repeat their achievements year after year.