The second edition of the Indian Super League (ISL) was inaugurated at the Jawaharlal Nehru stadium, Chennai on October 3, 2015. The cash-rich league which is only behind the English Premier League, Spain's La Liga and Germany's Bundesliga in terms of followers, saw the opening ceremony dominated by a galaxy of Bollywood stars – Aishwarya Rai Bachchan, Alia Bhatt, Arjun Kapoor and Abhishek Bachchan. Also present were Kerala Blaster's co-owner Sachin Tendulkar and actor Rajinikanth along with Amitabh Bachchan and co-founding chairperson (Football Sports Development) Nitu Ambani. The ceremony which started at 5.30pm went for 40 minutes. Besides a special composition for the entry of the football players, A. R. Rahman and his troupe of artistes also performed the national anthem just before the start of the play. Chennaiyin's co-owner Mahendra Singh Dhoni and Kolkata's owner Saurav Ganguly were not present because of other commitments.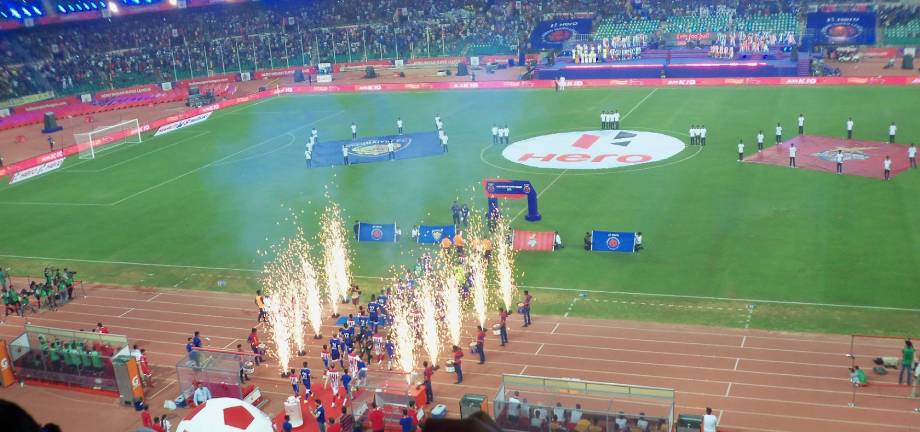 The ISL is an IPL-style tournament that consists of 8 teams – Atletico de Kolkata, Chennaiyin FC, Delhi Dynamos FC, FC Goa, Kerala Blasters, Mumbai City FC, NorthEast United FC and FC Pune City. The inaugural match of the second edition was between last years' champion Athletico de Kolkata and semifinalist Chennaiyin FC.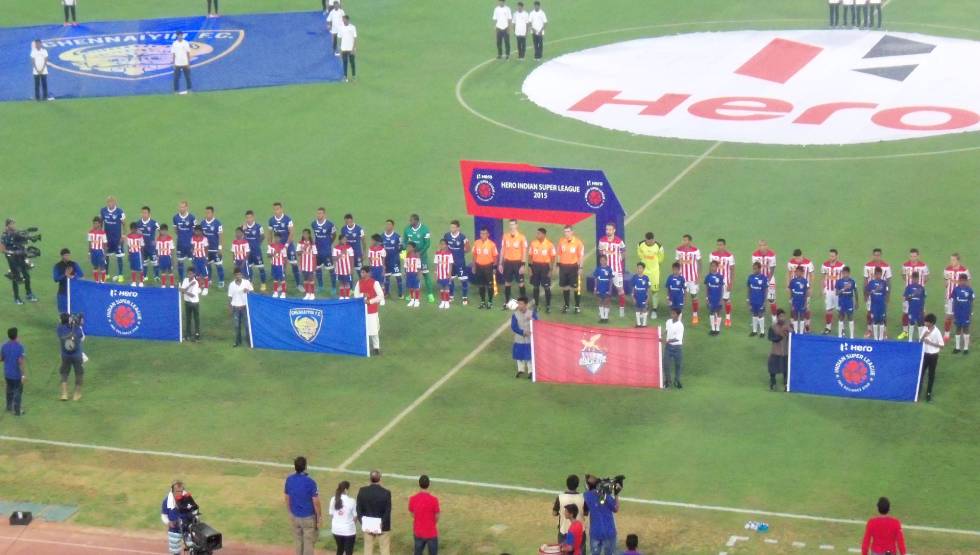 The match began at 7:00 pm. Chennai managed to dribble the ball to Kolkata's end many times in the first few minutes but failed to score on all those occasions. It was finally Athletico's marquee player Helder Postiga who opened his team's account in the 13th minute after Chennai's goalkeeper Edel Apoula fumbled and dropped the ball. But Jeje Lalpekhlua scored the equaliser for Chennai eighteen minutes later because of the same mistake from Atletico's goalie. The second half turned out to be a rude shock for the hosts as the visitors pulled ahead twenty minutes before the conclusion with a brilliant goal by Postiga at a difficult angle. But the Portuguese was stretchered off immediately due to an injured knee. Six minutes later the score had changed to 3-1 after a header by winger Valdo which found the corner of the net. Then Chennaiyin's marquee player and last season's Golden Boot awardee Elano Blumer scored from a penalty in the penultimate minute evoking some cheers from the home crowd which supported Chennai vociferously throughout the match and booed the defending champion with the same amount of enthusiasm. The 'Hero of the match' award went to Helder Postiga for his brace that took Kolkata home.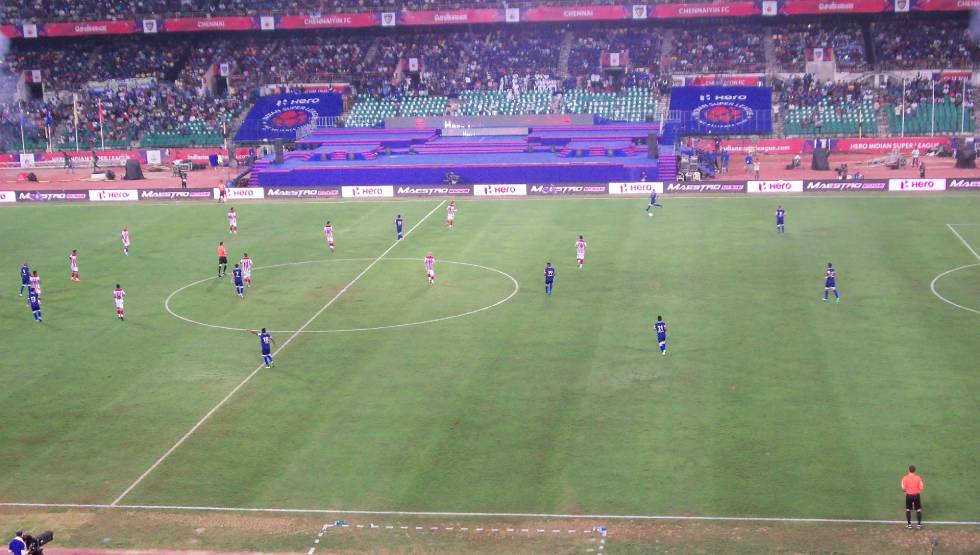 Even though the opening ceremony was glitzy, there were still some organizational problems as there was not enough bottled water and proper food for the 29,923 spectators and also puddles of water in the galleries due to leaky roofs. Unclean restrooms with lack of running water was another issue. But the most notable glitch was probably the entrance of a stray dog just after the match started, halting play for a few minutes. There was also a pitch problem that Atletico's coach Antonio Lopez Habas later described as 'horrible'.
The other matches to be held in Chennai are on 24 Oct (against FC Pune City), 5 Nov (FC Goa), 11 Nov (NorthEast United FC), 21 Nov (Kerala Blasters), 24 Nov (Delhi Dynamos FC) and 1 Dec (Mumbai City FC). Ticket prices range from Rs.150 to Rs.2500.
Featured image: Panoramic view of Opening Ceremony
All photos by Dhurai A. Navaneetham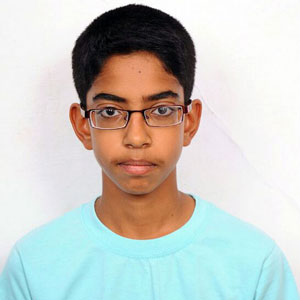 Dhurai, 17, is a senior year student in school. A student report at YOCee since his middle school years, Dhurai's interest lie in photography and sports reporting. He is a keen tennis player and cyclist.