Sacred Heart Mat. Hr.Sec. School elected their captains for the academic year of 2012-2013 and the investiture ceremony was held on June 16, 2012 at the school auditorium.
Investiture is a solemn and traditional ceremony in which these elected students officially transform into captains.
There are five houses in all at this school and 18 captains are selected including a vice captain, a house captain and a sports captain for each house. There is also a head girl, an assistant head girl and a school sports captain who also help run the activities at the school. The staff and students are extremely happy with the results of the elections.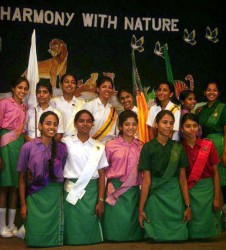 Ms.Sudha Uma Shankar, a noted journalist and an alumina of the school was a guest of honour at the ceremony.
The captains pledged to their duty to god, their country and their school and also to help the staff and students at all times and to uphold the honour of Sacred heart school and their respective houses. There was a wonderful dance, prayer, poem and an exciting shadow play organised for them to learn the traits of a good leader.
The students from class 9 to 12 and the proud parents of the leaders were invited to the ceremony. The day will always be remembered by the captains, chief guest, proud parents, staff and students.