A first person account and photos of the experience at the summer sailing camp filed by our student reporter P.S. Nandini
"Anybody can become a sailor. We once had a sailor who was 98 years old!" exclaimed Dr. Ali, a trainer at the Summer Sailing camp help at the Chennai Port.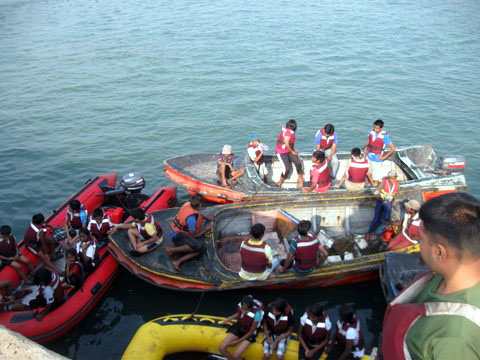 A huge round ball of red rose out of the trees. With my watch ticking away to 6:00 a.m. in the morning, I found myself walking towards Gate No.7 of the Chennai Port. With the help of a few directional boards, I finally got inside Gate No.7, and received my Port Pass from the Guards there. Then, following a couple of vehicles, I reached the Timber Pond Area, which houses the TNSA (Tamil Nadu Sailing Association).
An enthusiastic group of kids were giving their 3rd Day attendance to Dr. Mushtaqh Ali, who was one of the trainers at the Summer Sailing Camp, conducted by the TNSA from 14th May to 20th May 2012.
"The camp is conducted annually, and serves as our sead bed. This is where our champions grow from," said Ms. Shantha Ravikumar, from TNSA, who is in charge of the press relations. Pointing out the Laser, the Enterprise, and the Optimist sail boats, she explained that the boat is selected based on the sailor's age and experience. While Optimist boats are for those up to 15 years of age, the Laser is for adults, and older children, and the Radial is for women.
Talking about the TNSA, Ms. Shantha said that it is10 years old, and that 30 % of the sailing champions from here are girls. "TNSA is a non profit organization completely committed to promoting competitive sailing. We started with 6 sailors and the same number of boats. The navy helped us to begin with. Then with the Government's support and members' support, we have grown a lot in our 10 years," she said.
"We do encourage adult training also, but our primary focus is on training children. From 2004 onwards most of the national champions have been from the TNSA."
Meanwhile, Snigdha, a student from Sir Sivaswami Kalalaya who coaches newcomers said, "We teach them what to do. At the end of the summer sailing camp they'll be having a racing competition (a regatta). At that point of time we should see how they sail. For that we need to give coaching for them."
She then introduced me to Janaki Balachander, who is currently ranked No.3 in India in sailing, and has participated in international sailing events. "I just entered Class 10. But now I study at home because I go all over the world. I started sailing 4 years ago in the summer camp and I started liking it. I found that I had talent in sailing. So I pursued it. And I ended up as up girls champion 1st. Now I am the 3rd ranked person in the country, and 1st in girls," she said.
Life jackets, rescue boats, lascars (support staff), and good instructors who are sailors as well, pointed to the fact that safety is of prime concern at the camp. The participants were also given capsize drills where they had to capsize their own boat, and then learn to raise it back on to the water. Dr. Mushtaqh Ali, Mr. Ashish Mehta, Mr. Siddharth Chandrasekar, and Mr. Patrick Vetrivel were the coaches for the camp.
Once the attendance was taken, the 33 participants tenderly stepped onto motor boats, and went on towards the edge of the harbour. I got into a boat too, and looked around at the huge cargo ships loading the neatly arranged cars. While the Navy boats skimmed around, and the sea gulls flew overhead, our boat headed for a long curved pier which ended with a light house at the far end, and marked the boundary between the port and the sea.
Alighting onto the pathway, we walked all the way to the lighthouse. The participants had to jog along this one kilometer stretch. They were told to do this, to understand the importance of fitness. On our walk, Mr.Siddharth, a Camp instructor told us about the qualities that a person should have to become a sailor. He has been sailing from 2003, and is now into training and rescue. "I wouldn't say you shouldn't be scared of water. The basic thing I will say is an openness to try new things out, and a willing to learn. You just need to be confident of what your doing, and have presence of mind.  You should be wiling to have fun; you should be adventurous too," he said.
"Kids, who are just 5 or 7 years old, are sailing the Optimist. If you put it on land, it's like a 6 year old driving a Formula One car! A boat is just a car on water, but without all that pollution and smoke! Sailing teaches you lessons of life. The most important lesson I would say is how to work with what is given to you. It's not like just because you are racing, the sea is going to come in a particular way to help you race faster, or that the wind is always going to be there to help you sail faster. So you get a given set conditions. How do you work with it? That's a very interesting thing. That's the kind of challenge which these kids learn to face," he said.
By this time we had reached the light house. We stepped into the interior to find an old rusted step-ladder leading to the top. Starting slowly with the first rung, we finally reached the top. Turning around, we were surprised to see a small white egg near one of the walls. Siddharth said it was that of a sea gull. But more surprise was awaiting us. As our eyes traveled to the corner of the small landing, we saw two tiny chicks huddled together in a make-shift nest! We then climbed down again, and Siddharth pointed out the mast of a sunken ship that was sticking out of the sea a little further away. We even saw some sea urchins, and a few dead crabs sticking out between the rocks that bordered the pathway.
We took the walk back to the boats, and got ready for the ride back to Timber Pond Area. Once inside the boat, I felt a mild bout of sea-sickness taking over me. I was quickly assured by Mr.Partick that it was normal to feel so when the boat is floating idle. "There are two tiny bones in our ears which are responsible for keeping our body in balance. When we are on water, they get confused, and send a lot of confusing signals to the brain. One of these signals is the urge to vomit," he explained.
On reaching land again, the kids went off for a tiny snack break. During the break, I got to talk to Dr. Mushtaqh Ali, who is one of the Camp Trainers. "The program of the camp is to impart instruction in the sport of sailing to the students. As you see the participants are from different age groups. So we have to try to make ourselves understood to each age group. Our instructions are thus very basic," he said.
I was highly astonished to notice the intense amount of science that goes into this sport. "This sport is a highly scientific sport. You have boats which are 90 foot long, but they can sail 3 and a half times faster. That's d kind of science and technology that goes into it.  But what is important here is we teach kids that it's so much fun to be out doors. You don't feel crowded; you feel you're out there on your own. It gives them a feeling of self confidence. You can't shout "Mommy!" every time! You have to do something and get out!" he said.
Apart from being a highly adventurous sport, sailing imparts a lot of good values in us. Explaining about that Dr. Ali said "In this sport there is nor referee to see that you're following the rules. It teaches you a sort of respect for rules and makes you a responsible citizen.  You take care of your boat because your life depends on it and you get a respect for equipments. These are all important character traits which are built by this sport. Another forgotten quality in communities today is the quality of looking out for the other guy. So is the team spirit, and the feeling of kinship.  But if something happens to somebody you don't just turn away if you're in a boat.  You just go and try to help. People jump; people sail. It's something which happens instinctively. You don't have to train for it.  Assistance is one of the basic rules. So it's your safety; other's safety. Sailing is thus a very egalitarian sport."
Interestingly, sailing seems to be a good way to overcome fear of water. "We have found that in many, there's a fear of water, a fear of the unknown, because you don't know what is under the water. People say "I am going to be bitten by fishes. I am not going to be able to get back out of the boat." That's the kind of fear. But then it's overcome in time. If people are committed to coming on a regular basis they'll starts enjoying the sport, rather than getting stumbled by all these impediments,"' he said.
After the snack break we adorned our life-jackets again. This time around, the kids got to have their boat all to themselves, but with a trainer each, of course!  While the little ones sailed their Optimists close to the dock, the elder ones rushed further away into the harbour. With a few other participants, I got into one of the 2 rescue boats which were patrolling around giving instructions to the sailing children. Occasionally we pulled over close enough to throw water bottles to the thirsty sailors, or adjust the sails.  With our legs dangling out into the water, we enjoyed watching the sails of the other boats flapping around. To the great amusement of the rest, one of the participants' boat capsized nearly 4 times in less than an hour!
With the sun getting hotter with each passing minute, one of my boat mates decided to jump into the water. After having her life-jacket checked and tightened, she plunged right into the sea! Though tempting it was to follow her, I hesitated owing to the fact that I do not know a single thing about swimming. But the chill water was irresistible and I finally jumped in, after having my life-jacked checked and tightened by Mr. Patrick
On immediate contact with the water, I panicked as the salt water entered my ears, nose and mouth. The Trainer and the rest told me to relax and try to lie flat and still on the water. Only after a few minutes did my brain finally get convinced that I was not drowning. And there! I was floating happily 70 feet above the sea bed!
My friend and I were soon joined by the rest in the boat, and we held a happy conference floating in the middle of the water. After an enjoyable half hour, we were helped onto the boat. Dripping wet, and covered with crystals of salt, we returned in high spirits to the dock area.
While the boats were being stacked away, I talked a few participants of the camp.  "The camp is really fun. Yesterday they just put us in the water with our life jackets on, and we got to float around for 10 minutes," said Karishma, a class 10 student from Bala Vidya Mandir. Eleven year old Rithika, who is from the KFI said, "On day 2, we had theory for 10 minutes, where we were taught tacking, changing directions, and how to stop and start the boat. Yesterday was when we actually did the fun stuff. We jogged for about 1 km today."
Sailing as a sport has the right mixture of excitement, adventure and fun, to keep your adrenaline going. If you are conscious of the environment, here is a piece of information: sailing needs only the water and the wind, and of course, you! There is no age limit to become a sailor.
For more on membership and camp details, www.tnsa.in is the best place to go. Go out and enjoy the sea!
Here is a gallery of pictures shot at the camp.