Become a Student Reporter for YOCee (2019-20)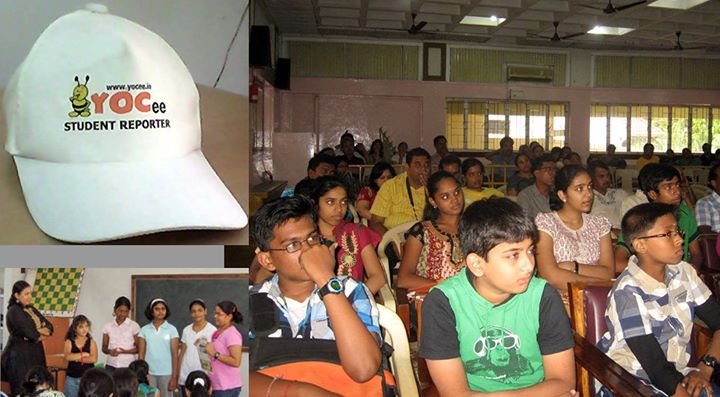 Last date to apply – May 26, 2019

[Application closed]
The Student Reporter programme of YOCee is back for the 13th consecutive year.
This programme encourages and trains students from high school classes, who are interested in writing and reporting. The students selected for this programme write for the website for a full year. From June 2019 to May 2020. Their reports are published on this website under various sections with their bylines.
Applications for the Student Reporter programme for the year 2019-20 is open now.
Here are the details of who and how can you participate in the programme:
The Programme:
As always, YOCee will offer the Student Reporter Programme to 25 students from Chennai city schools.
Students of class 6 and above are eligible to apply for the programme.
The student reporters selected under this programme will:
– attend a briefing session in June/July
– report news and events from their school campuses and neighbourhood
– visit workshops, attend reading sessions, camps and write reports
– interview authors, storytellers, artists and achiever kids
– and get published.
Benefits:
– Opportunity to improve your skills in language, writing, communication and Public Relation.
– You get a reporter's pack along with tips on reporting, writing and interviewing skills.
– Identity badge as YOCee Student Reporter for the year 2019-20 for reporting from the Press section.
– You will also receive a certificate at the end of the year, subject to completing the required number of assignments on time.
And what is more? Of course, a lot of fun!
Special Features:
– Periodical informal get-togethers sharing reporting experience of student reporters.
– Tips and basic lessons in high school journalism through one-on-one interactions.
Please note that the programme requires submission of at least two reports per month during the year.
This will require reporting from different parts of the neighbourhoods in Chennai.
The reporters will contribute articles / reports from June 2019 to May 2020.
** Reporters of the previous years need to send a confirmation along with their parents' consent.
How to apply for the programme:
Please use the form below to submit the following details:
– 100 words on why you want to be a student reporter and what you would be interested to write for the website if selected.
– Particulars of class, school, contact phone number.
– A declaration that your application for the programme has the consent of your parent/s.
Selected Student Reporters will receive a mail of confirmation on May 25. 2019 along with further instruction.
---