Sudha Sekhar started bag-designing as a hobby, which gradually continued to become her bread and butter. Today she is the founder of Subr, one of the well-known bag making startup.
Sudha owns a home-run studio at Mylapore. With a background in finance and a deep passion for designing, she stitches her way through the world of bags.
When Sudha started making bags there was barely any fabric bags in the market. Only Leather bags and rexine bags were popular. Only manja pais (yellow cloth bags) were popular. She wanted to use something different as she gave up on using leather some 8 years back. That's how she started her journey into making bags and wanted to make only for utility purpose.
How is bag making important to you?
It has become very important as everyone in my family carries fabric bags that I make. We don't buy anything outside. It is also my bread and butter.
When you make bags, clutches, do you enjoy the time you spend?
Totally… I would not trade it for anything else in the world. Art and craft was always an essential part of my growing up. I always keep trying out things. My commitment to any craft was always short. Sewing is the one craft that I am fully committed to. I can sit and sew all day and night. I am super committed and passionate about.
When you were young, what did you want to be? Was it similar to what you do now?
I was hopeless when I was a kid. I was a good 30 or 32 when I knew what I wanted to do. Having grown in an era which had a herd mentality. My parents were super chilled. My brother is an artist and I am from a finance background. It took me 30 years to figure out what I am doing now.
How much do you spend on materials and how much do your bags cost?
I still treat it as a hobby which has gone overboard. My spending is more than what I get, which is not a cool business thing to do. Now the production has increased and so the numbers have gone up. I handpick my materials and source my materials from Vietnam, Indonesia, US, Australia, UK, Bali. I cater to a very niche market and make up the cost. Some still want to pick up a leather bag for its longevity. So more than the production number, I want to do quality bags.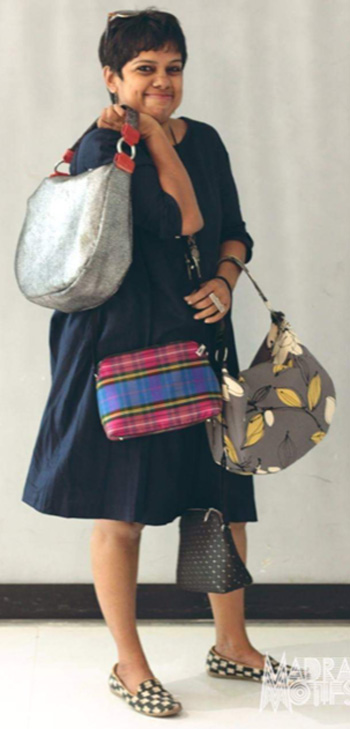 What is the speciality of your bags?
Except for the kitchen sink, it can carry everything. That's my trademark with big bags. They are super spacious and of bold colours. That is always the USP of my bags. I play with lots of colours. Ikkat and Kalamkari that are in rage right now are not good for bags. They are great for apparels. My bags are large, fun, colourful, the very construction of the bag per se is very simple.
When you make bags, you look for functionality or style?
Definitely functionality. I always carry my lipsticks and kajal sticks and dump them in my bag and try to fish them out. Then I designed a kit that can hold all of those in place. Wearing nosepin is a big fashion now. So I've created a book sort of a thing in which you can keep each one neatly. So I first see what functionality it can serve and then design the bags.
Are your bags seasonal or available all year round?
They are limited edition bags. Am not a mass producer. Anyone print I make maximum only 5 of the same kind. Generally, I don't make more than 3. Five is the maximum.
Do you plan to open a shop?
I retail through exhibitions periodically. Right now online is the way to go. It saves a lot of overheads. Brick and mortar is great for people to come. But so far online has worked. Maybe I will open a retail sometime. Right now no.