This lockdown has been a very productive time for V.V. Kalavathy. A resident of Narasimhapuram, Mylapore, she decided to try out something 'out of the box.' For the past ten years, Kalavathy has been growing flowering plants and veggies on her rooftop. This was during the time she was working in Tamil Nadu Archives Department. She retired as Research Officer in the year 2017. Though she has been nurturing her home garden for quite a few years, since the lockdown, she had a lot of free time on her hands. So, she started growing 12 different varieties of keerai (spinach).
Ms. Kalavathy says, "Many buy vegetables from outside. But no one knows what chemicals are used while growing them. But if we are self-sufficient and grow our own fruits and vegetables, we know where and how it is grown." She has grown various varieties of spinach such as Paruppu keerai, Vendhaya keerai, Murunga keerai, Thandu keerai, Mudakathan keerai and many more during the lockdown months. In addition to this, she also grows vegetables like tomato, green chilli, brinjal, and okra (vendakkai), which she uses in her everyday cooking.
Watch the video report 
For any garden, fertilizers are a must. But Kalavathy never buys her fertilizers from outside. Instead, she makes them at home. "Bio enzymes are the best organic fertilizers. They can even be used for washing vessels and clothes, wiping and mopping floors, and even as a handwash," she says. To prepare bio enzymes, Kalavathy adds three cups of fruit peels, one cup of jaggery, and six cups of water. She soaks the fruit peels and jaggery in a vessel. After this, she keeps it in an airtight container in a shady area for 2-3 months. "I have been using this method for a while now, and it's really effective. I used it for my flowers and saw results the very next day," she adds. 
Greens and vegetable plants
Biogas plant
In addition to all this, Kalavathy also has her own biogas plant. She busts some common myths. She says, "Two years ago, I too had many doubts and questions regarding biogas. Because we use so many items like cow dung, kitchen waste, etc, our perception is that it might stink a lot. Also, we cook with this fuel. So I approached Mr. Jagadish, the owner of Tamilnadu Biogas, and he helped me set up my own biogas plant at home. I later understood that there was no stench and the blue flame that came out was very efficient." She also collects the excess water from the biogas plant from another outlet and uses it for watering the plants in her terrace garden.
View of the biogas plant
Ms. Kalavathy advises all who wish to start their rooftop garden to never be discouraged. "Once, I added too much fertilizer for my favourite jasmine plant and it couldn't survive. I was disappointed, but never gave up," she recollects. She also says that the soil should be loose enough for water to seep into the roots, and encourages all households to use composting techniques. "It doesn't take much effort to make compost. Just add dry leaves, cow dung, kitchen waste, and cocopeat in a bin and leave it in a shady place for two months. It has two advantages – reduced garbage and good manure for plants," she says. Overall, she says that she gained a lot of experience from a gardening and biogas perspective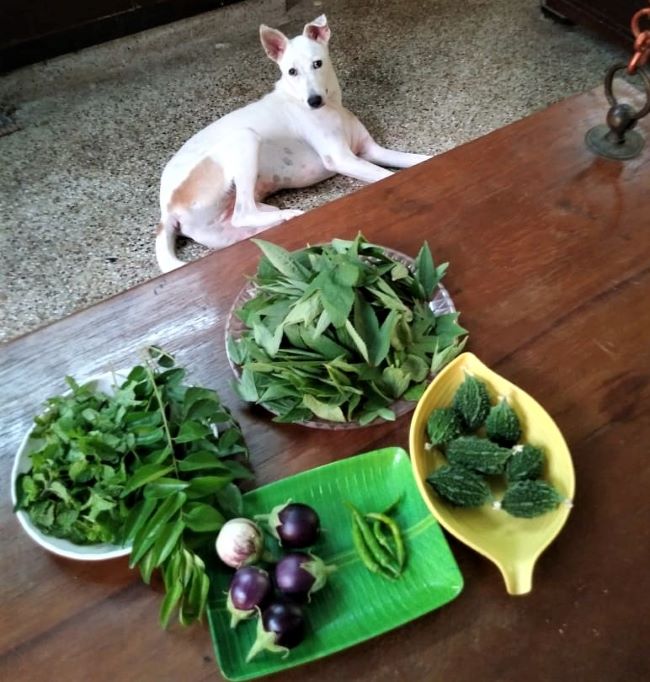 Yields from Ms. Kalavathy's terrace garden. Her pet dog guards them!
She uses the home-grown greens and vegetable for her family and shares any surplus with her neighbours.
Want to take tips on home gardening, composting and growing your own food?
Contact Ms. Kalavathy at +91 9444258021.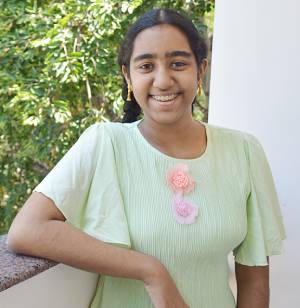 Sthuthi loves Marvel movies, writing, and dancing in no particular order. Writing especially helps her with clarifying her thoughts and keeping herself focused. She also loves reading, interacting with animals, talking to new people, and exploring new things.