The current life of people is full of hardships due to the COVID-19 pandemic. Everyone from different corners of the world can't wait to come out of their houses, meet their beloved ones, get out of this trauma and make a comeback to regular life again. From the start of the year till now, we all are in confinement and fear.
The energetic and young people who are usually filled with wanderlust are now sitting on their couch dreaming from their windows. But not all. Let's see the brighter side! Everybody will be in awe and surprise to know how teens work during this period, effectively and innovatively, to make a change. With their talents, aptitude, broadmindedness, and access to technology, they are heading to make the future dazzling and act as inspiring figures.
Here's the story of Tharansia, which sets an example. She uses her time to make ordinary things extraordinary, by painting bottles to fund money for the needy in the apex of a tough time.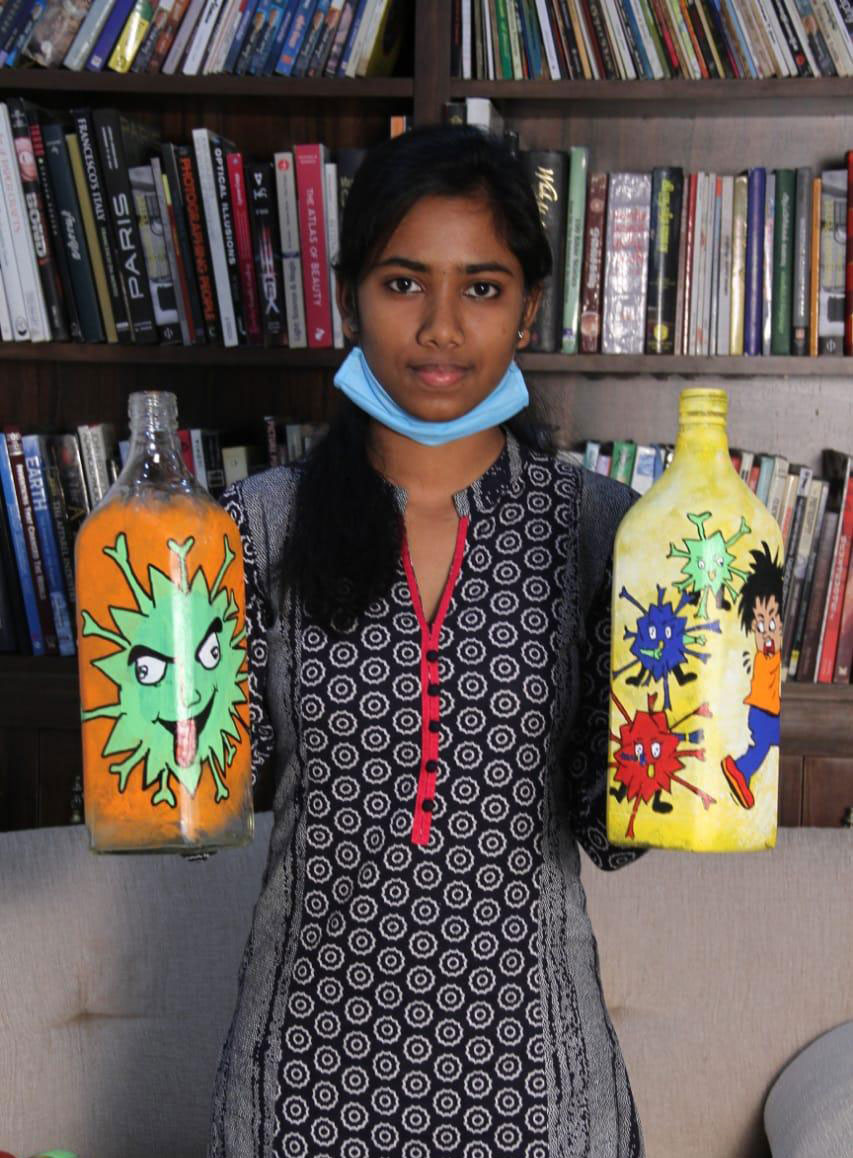 Tharansia, 16,  studying 10th grade in a Chennai school, is a self-trained artist who excels in her talent in painting bottles right from her childhood. Through her own will and interest, she makes beautiful artworks from home.
She had earlier created a Guinness World Record as the 'Youngest Girl, Captured Most Painted Faces (Face Painting) in four hours by Individual' at Chennai, Tamil Nadu, India.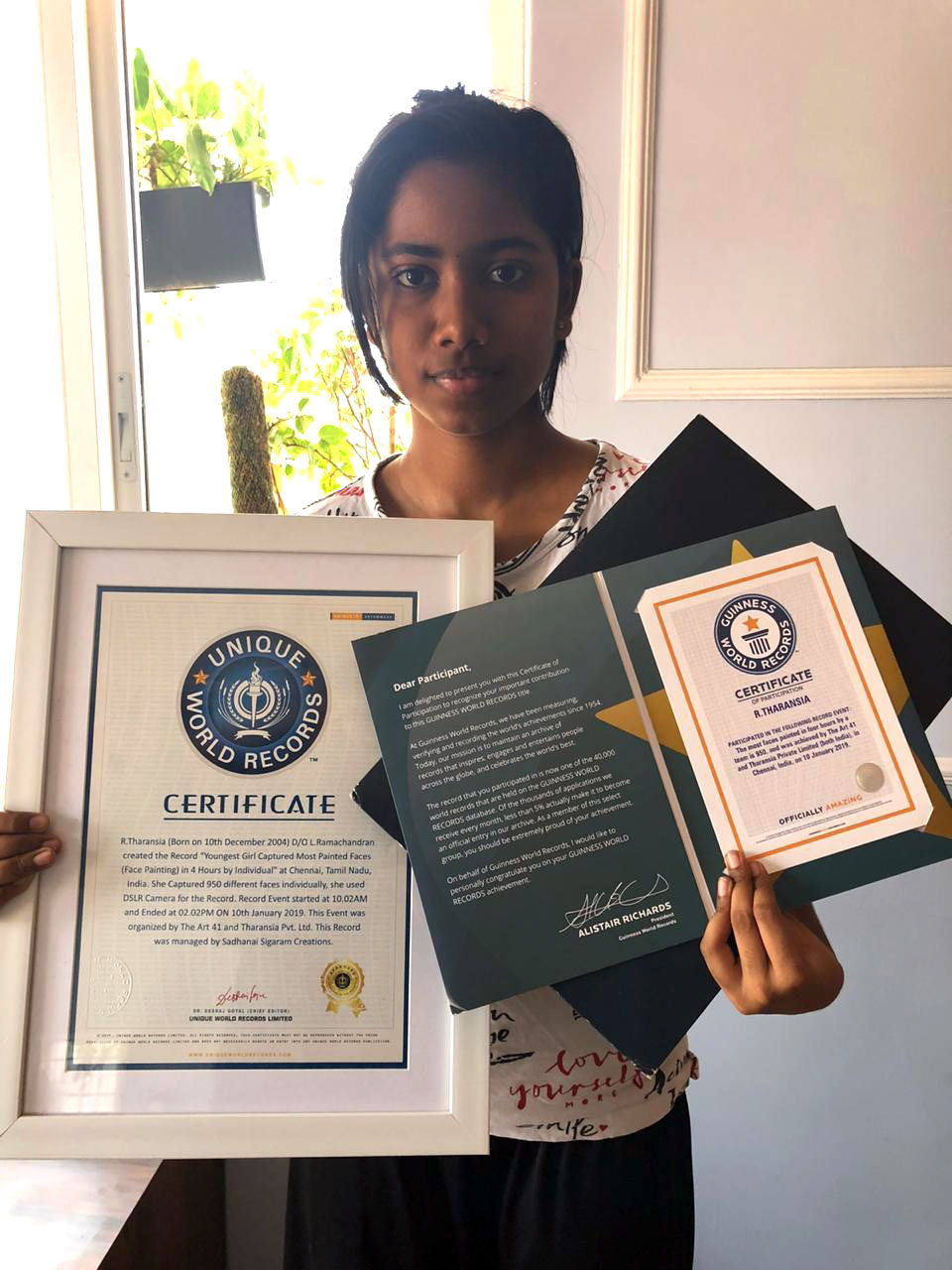 Being a daughter of a photographer and artist L. Ramachandran, art runs in Tharansia's vein. She paints with her collection of plastic, spray bottles, as a unique idea. To create awareness on pollution and recycling, she painted empty alcohol bottles that lay on road.
As this pandemic period seems to be tough for all in managing our everyday life, we all think of taking care of ourselves. We fulfil our essential needs and are self- protective. Our concern for the needy is forgotten almost completely. On the other hand, people valuing lives help in various ways like donating their pensions and giving free masks, occupancy to the people in requisite.
Like that, Tharansia's broadmindedness to help the needy didn't just stop with the thought. She moved her skill into the big challenge of COVID-19 Relief Fund Raising. In the context of the ongoing crisis, she started painting bottles and put them out on sale to raise funds to contribute to those affected by the lockdown. Her friends and other acquaintances made orders and transferred the money online. The bottles are waiting for the lockdown to be lifted to get delivered to those who have ordered.
She already endowed an amount of Rs.25000 to the Tamil Nadu State Chief Minister's Public Relief Fund in April 2020. She priced her painted bottles at Rs. 250 each and has got more than 30 orders on hand currently. Her paintings cover themes related to education, food, art, cartoons, babies, scientists and of course, Corona. Her family supported and encouraged her to involve in this good cause.
Tharansia feels that this quarantine is very useful for her to balance both studies and her charity work and to explore her talent. She says, "If you need to put something into action, first you need to dream for it," and she feels that she is achieving her dream. Her father's contacts in the photography and film industry have helped her too. He posted about her work in Social Media and she received many pre-orders, good response and appreciation.
Popular south Indian actor R Parthiban, also her father's friend, made an order for her painted bottles for Rs.10,000. The actor encouraged her to continue her good work.
She says, "This is not my destination, actually this is just a beginning. I feel proud and happy that I can also do something for my country and help people at this time. I will continue to do my best, by contributing more to people who are suffering and affected by Coronavirus…" Her message to teens is to "Stay self-motivated".
The coronavirus may be invisible to us, but these kinds of social help and charity make our humanity visible.
Your reading is over, hurry up to order these artistically painted bottles. Contribute for a Good Cause!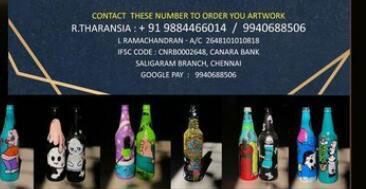 Contact: R.THARANSIA: +91 9884466014 / 9940688506
L. Ramachandran – A/C 264810101818
IFSC Code: CNRB0002648, Canara Bank
Saligramam Branch, Chennai.
Google Pay: +919940688506
_________
Editorial suggestions by Gopika Kumaran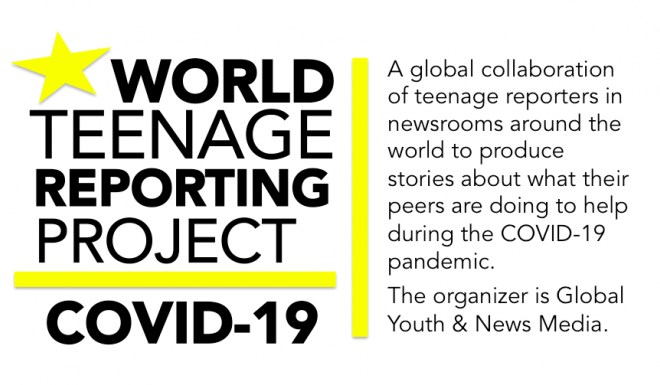 Harreni R, 17, is a final year student in the higher secondary class. She is interested in nature and the environment. She volunteers at the local zoo.