Masks have become a prevailing image of the COVID-19 pandemic. While they do help in preventing the spread of the disease, it is uncomfortable wearing one for extended periods of time, as health workers do, causing rashes at contact points.
Tejas Gopalan, a 19-year-old from Southern India's Chennai, saw the effect that wearing a mask regularly had on his father, who suffered infection behind the ears from his long hours of mask-wearing while going out for his work during this time of the pandemic.
The idea
Tejas came up with an idea which would remove the mask's tug on the wearer's ears. A 2nd-year student of Product Designing at the National Institute of Design in Ahmedabad, he says a person in Canada had already developed a similar device, but it did not remove the pressure on the ear completely. "As he had open-sourced it, I thought to develop a more comfortable version. I started off by sketching the design. Then I took measurements of my family members and arrived at a size which could fit everyone." In all, it took a week to model his idea into a prototype." I designed the prototype by the method of 3D printing, with the help of an agency called Precious 3D, and tried out the final design on my father," Tejas says.
Design and production
For designing prototypes, 3D printing is advantageous. But for mass production, injection moulding is done, in which the product is manufactured by injecting the material in molten form into the moulds. "This is faster than 3D printing and of better quality too," he says. Another change was the material used. "For the prototype, I used regular plastic, but for mass production, I switched to High-density polyethylene (HDPE). It is more durable and elastic than regular plastic and it can also be sterilized, making it reusable. The fact that it is recyclable too is an added advantage," he adds.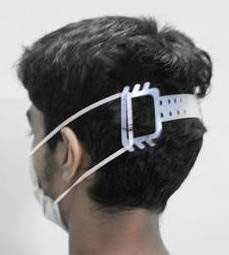 The protector is placed at the back of the head and the strap of the mask is attached to a projection on its end, holding it in place. The protector is also compatible with face shields.
Distribution
Precious 3D, who helped in the trial versions for Tejas, carries out the mass production too and produces up to 10,000 ear protectors a day. Each piece is priced at Rs.10 which Tejas feels is nominal and affordable. He has stipulated the minimum order quantity at 1000 to offer the product available at this price.
Kauvery Hospital, Chennai has placed an order for 10,000 pieces for providing to their staff. Tejas had worked with Kauvery Hospital on other designs in the past. "I have also received orders from hospitals like Apollo Spectra, MIOT in Chennai and from a couple of hospitals in other cities like Mumbai, Bangalore and Pune. I have been getting very positive feedback from the users," he says.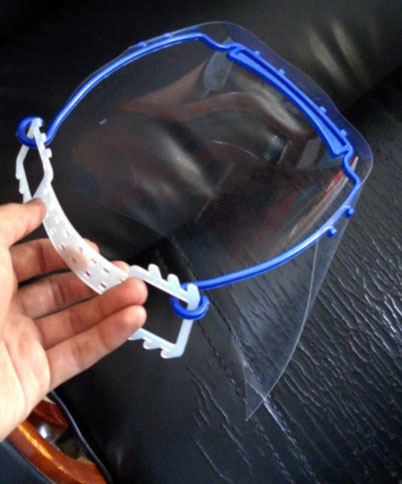 Getting the required materials isn't a big problem, he says. "It's not very difficult to procure and supply, even in the current lockdown situation as small industries producing essential items are permitted to operate with a skeleton staff. The manufacturers are in constant touch with the supplier. They ensure that everything is working smoothly, making sure the materials arrive on time and filling up vendor request forms".
About his other plans, he says he is working on a contactless way of handling doors. On the current COVID-19 situation, he says it will lead to a new world order. "I feel it will change the way the world runs", he concludes.
Contact Tejas at tejas@hetrogenous.com
________
Editorial suggestions by Gopika Kumaran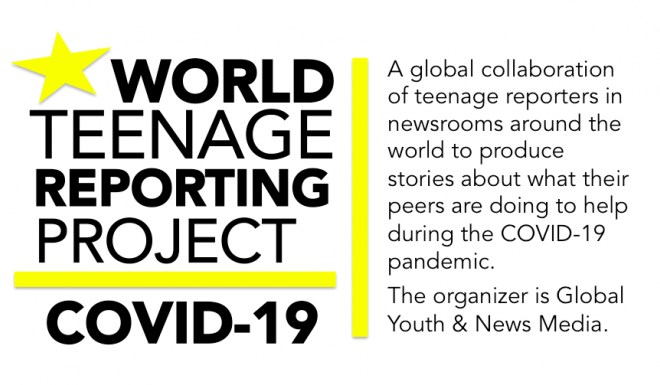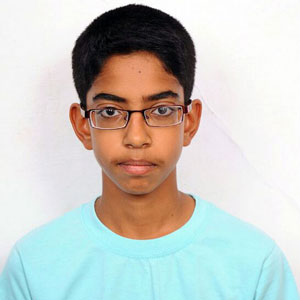 Dhurai, 17, is a senior year student in school. A student report at YOCee since his middle school years, Dhurai's interest lie in photography and sports reporting. He is a keen tennis player and cyclist.