To Jayanthi Srivatsan, dance is more than just movements and expressions. It is a way of life. "It's like an Ilayaraja song. When you dance, all your worries just seem to vanish," says the experienced artiste.
Learning in the early years
Jayanthi's journey with dance began at the age of three. She would watch Doordarshan TV programs and dance to the tunes. Her mother recognised her talent and sent her to learn Bharatanatyam under a family friend, Krishnakumari Narendran, who is also a well-known guru. A few months later, when she was but four years old, she began learning dance with the renowned guru Adyar K. Lakshman. Under him, she did her arangetram (maiden performance) in the year 1994 at the age of 12.
A little later, her sister started learning dance under Roja Kannan, another renowned artiste and a disciple of guru Adyar Lakshman. So, Jayanthi too had to shift under her for convenience. "Sir was never insecure about losing a student," she said. "For him, learning dance mattered more than anything else."
She continued learning dance under Kalaimamani awardee guru Roja Kanan for the next many years. The experienced dancer and teacher would advise her students to learn music along with dance for holistic learning. And so, Jayanthi underwent training in music as well. She learnt to play the veena. However, for her, dance was the main priority. "I would have scheduled a music class, and suddenly my dance teacher would say that she was free for a dance class. And I would immediately reschedule my music class. The music teacher would get very annoyed," she laughs.
Varied interests
Another one of her hobbies was karate. Her inspiration was Jackie Chan movies. While her father readily agreed to enroll her in a karate class, her mother was a bit hesitant. "She would say that Karate would reduce the grace of dance movements and make them rigid. But later, I realised that Karate actually helped me improve my posture in dance." At some point, she wanted to join the civil services!
But by the time she reached college, karate and music took a backseat and only dance remained. Jayanthi continued to learn dance and never stopped. Then, in 2006, her guru Roja Kannan suggested that she learn a couple of padams (short dance sequences that involve expressions and feelings) under the accomplished dancer Bragha Bessell. She then started taking abhinaya classes with her. "It's been 15 years now and I still go to her for advice," says Jayanthi. "She's not just a guru, but also like a dear aunt to me."
Teaching Bharatanatyam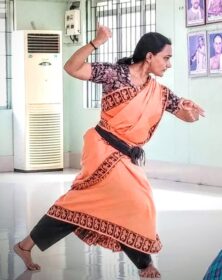 Later, in the year 2012, she had taken her kids to a playspace called Vanilla Place in Bishop's Garden when the owner of the playspace suggested that she offer dance classes in the same building. Jayanthi was hesitant at first but later accepted the offer. "Taking a class is a huge commitment," she said. "I didn't know if I was up for it." She then officially started classes for a small group of children for 8-10 months, and later shifted her classes to another place called Oppilal School of Music and Arts in Abhiramapuram. She also held summer camps every summer which taught children diverse activities like puppetry, yoga, bhajans and other classical arts.
Now with the pandemic, she continues to teach online. "I hope things open up soon," she remarks. "Things are really difficult online. It's just not the same as one-to-one classes." In addition to teaching dance, Jayanthi also teaches eye exercises and basic workouts to stay productive and healthy even during the pandemic, to her students.
Accolades
Jayanthi has made several achievements in the field as well. She is a graded artiste in the television network Doordarshan, has won the Indian Council for Cultural Relations (ICCR) Horizons award, best dancer award, and many more. She became the brand ambassador for Tamil Nadu tourism in the early 2000s and earned a title from the Tamil Sangamam for her skills. She has also performed and conducted workshops in several countries abroad such as Singapore and Malaysia. She has founded her own dance school Natyaa Aaradhana in Chennai.
She urges the young dancers of today to never get demotivated. She says, "Do what you're doing with conviction and continuity. Never give up on what you do. And always be open to healthy criticism and focus on improving."
Jayanthi continues to learn, teach, and perform Bharatanatyam. She can be reached at +91 98411 29689
---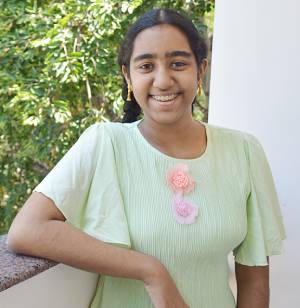 Sthuthi loves Marvel movies, writing, and dancing in no particular order. Writing especially helps her with clarifying her thoughts and keeping herself focused. She also loves reading, interacting with animals, talking to new people, and exploring new things.