Two years ago, on May 29, 2019, a 7-year-old organisation took up the initiative of restoring a historic 100-year-old lake in the heart of Chitlapakkam in Chennai's suburb. The process of de-silting had begun with the support of college students and many residents in and out of Chitlapakkam. The mission to make Chitlapakkam lake an eco-park came up to be done despite many hindrances and obstacles.
Chitlapakkam Rising, an NGO with over 5000 volunteers wanted to save an ancestral lake present for hundred years in the area. The NGO has been taking many efforts to make the neighbourhood better, but this is their first big initiative. In 2019, Chennai faced a serious water scarcity problem, and the lake was almost dried up. Many animals faced severe injuries due to the lake dry-up. This made the residents start the project before Water Resources Department (WRD) started working on it. They began to restore the waterbody with the help of volunteers.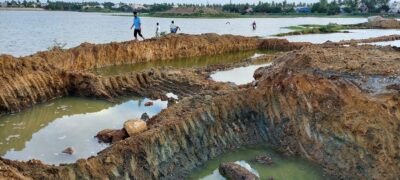 After a long six months of desilting and strengthening the bunds, the process was halted by the 21-day quarantine due to COVID-19, which led to a year-long lockdown. During lockdown in November 2020, the Nivar cyclone added to the delay in the process. The canals had to be opened which let the water enter the lake. This affected the desilting process which was yet to be completed. The process eventually slowed down due to the second wave.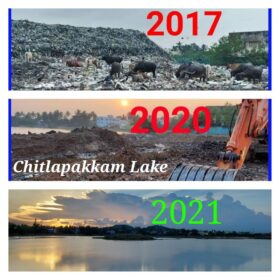 Currently, a few volunteers have been arriving for the restoration work. About 50% of the work is done. Desilting work has started again. Officials from Public Works Department (PWD) have assured the residents that the desilting will be over by August 2021.
All the images from the Chitlapakkam Rising Facebook page
---