Travelling in a flight or train is always exuberant.
I travel only during holidays and in prior, I start a countdown and I'll be waiting for that particular travelling day feeling elated.
The first time I ever travelled in a plane, I had too much ear pain and the air hostess were gracious people as they give me luscious treats for my pain to be forgotten.
Since the plane was flying up in the sky, I was afraid that it would fall down and crash so I always pray to god when I feel afraid.
I usually find travelling in a flight fun since it's an unintended fun rollercoaster.
While taking off and landing my heart will be filled with joy and jitter because of the fluttering butterflies caused by my stomach while flying.
On international flights, they even have fun games to play or movies to watch and I always play games and watch them.
Once the plane lands, sometimes out of curiosity and keenness I go to the cabin room and I even talk to the pilot!
Travelling by train is a delightful experience but I remember the first time I travelled in a train. The departure station comes at wee hours and had a fear of missing the destination station.
I love heights and I always opt for the highest berth since it has its own contentment. Since I was young and it was my first time sleeping alone in the berth I was so terrified as I can fall down easily.
I also brought my favourite dress with me and I had kept my suitcase down and I hoped it wouldn't get stolen by anybody.
But, I love travelling in train because I get to indulge in the amazing view and the gentle breeze.
Overall flying and travelling is an amazing experience for me and the best part is in the end, you visit a new glorious place or you go to meet your relatives and cousins to spend a quality time with them feeling blissed.
Photo by Mahesh Shrestha on Unsplash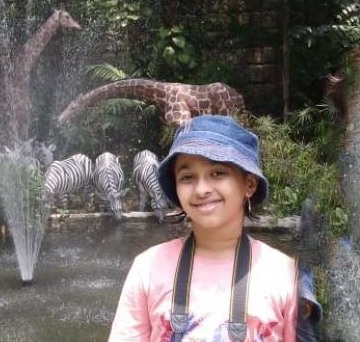 Medha loves listening to all genres of music, loves to draw and paint, passionate about cooking and baking and eating it too! A heritage enthusiast, aspiring gymnast, a budding basketball and badminton player, she enjoys cycling and loves spending time with friends and family.