Traveling during unsure times is scary. The manner humans tour, has modified throughout the pandemic. The risks of having laid low with the virus are drastic. However, traveling is one of the maximum fun approaches to explore, meet and greet! Loads of demanding situations are confronted while travelling – following covid guidelines, maintaining hygiene and what now no longer! Here's the way it seems like to tour withinside the new normal.
A travel enthusiast, Mr.Karthik Ramanathan's thoughts and experience of travelling during the pandemic: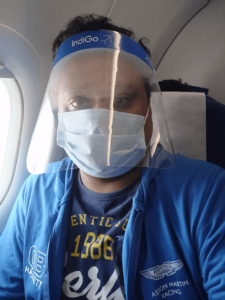 As the unfolding of the virus is hastily increasing, it is very vital to comply with covid protection guidelines, educate all people and spread awareness about social behaviour. It is concerning that we have a tendency to continuously forget to sanitize, maintain social distancing and abide through the policies and guidelines! This regularly takes place even as we are travelling in public transportation; metros, buses, trains.
While flying, PPE kits (Personal Protection Equipment kits) are provided to the passengers for secure traveling experiences. Few ignorant tourists choose not to wear the necessary, this lack of knowledge is likewise one of the reasons for the spread of the virus.
Usage of common amenities such as handrails, public restrooms, cutlery in restaurants and many more are inconvenient, additionally adds to the tension and worry for the tourists. Actions as easy as forgetting to sanitize hands after shopping for tickets create high risks of getting affected. There is no other way other than eating at restaurants as it may not be convenient to cook your own food…
Though, all of these are challenges, why don't we also take a look at the bright side of the experience?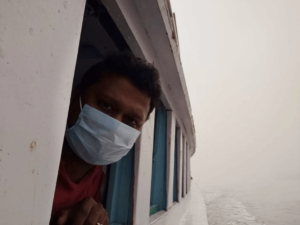 Staying confined in our homes has been frustrating but, travelling to less crowded places aids many to get rid of mental fatigue and get a new breath of air! All we need is a change of atmosphere…Traveling cautiously does it all:) Don't forget to mask up folks! Everyone is facing a financial crisis during this pandemic-Small vendors and other laborers who used to receive daily wages have been trying to make their ends meet. Buying essentials and other items like; packaged water bottles, snacks and medicines from them aids them for a better living and also contributes to the economy.
All of us are missing travelling, let's sail through this together and wait for a better tomorrow.
Image and inputs:
Karthik Ramanathan – http://karthikwander.blogspot.com/
Featured image: Sunset point of Bakkhali – Kargil Beach