Do you know that our mind is in thinking mode for the most part of the day? How about putting those thoughts into writing? Be it ten lines or a 500 words piece, writing every day relaxes the mind and in the process, we never know what exciting thoughts and inspiring ideas we would come up with.
During the summer of 2020, The Write Track was launched by YOCee and has since completed two seasons. Children and young people wrote every day based on prompts sent to their mailbox each day. They mailed narrations, opinions, fun pieces and a lot more and all of them were published. The participants formed groups and produced eBooks at the end of every week! Doesn't that sound interesting?
The Write Track is entering Season 3. And is all set to start on May 1, 2022.
Interested to write every day? Want to receive the daily prompts in your mailbox? Drop a line of your interest to editor@yocee.in
Choose any (or all!) of the prompts and write!
This page will be updated every day. If you have missed the earlier prompts and still want to write about them, pick up the prompt from here and just write. Mail your piece to us and get published!
And what more? Invite your friends to also write for more enjoyment!
_____________________________________________
May 31, 2022
Thank you for being on the Write Track for a full month!
Go 0ver to the prompts of May 1 and see if any prompt still interests you. Go ahead and say what you want to about any of the topics shared earlier.
YOCee is looking forward to reading your writings in the coming seasons also!
__________________
May 30, 2022
1. BRICS in news (Newsy)
What is BRICS? Give a general background about it and the latest news about it and proposed actions and events.
2. Uniforms! (Opinion)
Students wear uniforms, workers, hospital staff, and some govt. department, drivers too. Should there be uniforms at all? Substantiate your opinion.
3. Snacking (Fun)
Love snacking during your leisure? In school breaks? Write about what's special about snacking time and why you look forward to snacking!
__________________
May 29, 2022
Sunday, the break day! But do have a look at the prompts that you have missed and write!
__________________
May 28, 2022
1. Metro rail rides in your city or a city known to you (Newsy)
Bangalore Metro rail recorded the highest ridership last week. Can you write a news report with all the 5Ws and the H? Do talk to metro rail travellers for input and incorporate them too in your report.
2. Is it important for children and young adults to learn about current events? (Opinion)
What do you think about kids knowing the current affairs?
3. Your favourite smell. What does it remind you of?
Does smell kindle a memory? Do think of one such smell and write!
__________________
May 27, 2022
1. Social welfare programme (Newsy)
Identify a Social Welfare Programme by the local or central govt. Write about its need, origin and present status. Talk about how useful or otherwise the programme is. Take care not to make it your personal opinion
2. Life in the rural area (Narration)
Have you ever lived in a village or are you presently living in one? Have you been to a village during the holidays? Can you narrate a typical day or week in a rural area? If you have not been to a village yet, what is understanding about life in a village? Write what you think about life in a village.
3. If you were to change your classroom for a day, what would you change in it?
Imagine and write!
__________________
May 26, 2022
1. Floods, monsoon and precautions (Newsy)
Abundant rains in certain areas resulting in floods almost every year. The pattern of such floods is also constant. Find out which are those areas, and what measures are taken to help people residing in such areas by the MET dept. and the govt.
2. Stray dogs in residential localities (Opinion)
Recently in Delhi, the High Court has asked the city administration to respond to Public Interest Litigation seeking vaccination of stray dogs against diseases. What, in your opinion has to be done to the stray dogs apart from vaccination, that will be kind to the dogs as well as acceptable to the general public?
3. Crossword or Sudoku? (Fun)
Which is more fun. Say it with examples!
__________________
May 25, 2022
1. Opening of Mettur dam in May (Newsy)
The Mettur Dam on the Cauvery rivers is opened in May for the first time after independence. Research and write a historical timeline.
2. Bullying.. (Opinion)
Bullying in any form including body-shaming is not welcome among children and even adults. Write an opinion piece on the psychological consequences of victims of bullying
3. Best surprise you ever got (Personal experience)
Write about some of them!
__________________
May 24, 2022
1. Class 10 board exam results announced today (Newsy)
Pull up some numbers and facts about the result and write a piece with just facts.
2. Summer camps or just vacation? (Opinion)
Are summer holidays just for having a break and lots of fun? Or is it good to acquire a skill or two during the summer break?
3. A day when everything seems to go wrong!
Write about a day that had happened with all things wrong. Or imagine and write!
__________________
May 23, 2022
1. Rising oil and fuel prices. What do you know about it? (Newsy)
Try and write an informative piece with facts about the prices of fuel. How are the prices determined, what are the taxes included, how the consumers see the price and rise?
2. Is honesty the best policy? (Opinion)
Many people believe that honesty is the best policy. In your opinion, is it ever okay to lie?
3. Cheer up a friend who is sad (Personal experience)
How would you do that? Or have you done it? how did it feel like to cheer up a friend?
__________________
May 22, 2022
Take a break and have a look at all the previous prompts for inspiration to write!
__________________
May 21, 2022
1. 5G in India (Newsy)
Testing of 5G calling happened recently in India. Write a piece with all the 5Ws about it.
2. Countries, borders, travel… (Opinion)
In political maps, we see lines drawn as borders between countries. How do different countries own the land within those lines? Visiting another country needs a visa. Do you think that people in the world need permission to visit another part of the land on the planet?
3. Jumping classes! (Fun)
If you were allowed to be admitted to a degree/undergraduate just after your 4th grade!
__________________
May 20, 2022
1. Rupee vs dollars (Newsy)
For a couple of days now, you read the news that Rupee falls against the Dollar. Try, read and understand what it means and what the fall means to consumers. Explain it in your own words.
2. Television? YouTube? (Opinion)
Years ago, people waited to watch television programmes at their scheduled times. With the advent of videos on demand and YouTube, watching your favourite movie or show can be at any time. What is exciting – waiting to watch or watching instantly?
3. Pizza party turned into a samosa party! (Fun)
Imagine you had ordered a pizza for a party, but the outlet ran out of pizzas and could offer only samosas instead! How would you replan your party?
__________________
May 19, 2022
1. Courts, law and order (Newsy)
Are you hearing a lot of news from courts these days? Any case or verdict that you thought was just and pending for long? Write on the case, the timeline and the verdict. Do take care not to bring in your opinion into it!
2. Nature and society (Opinion)
How can society become more nature conscious? What initiatives would make people go green and take care of nature? Bring your opinion to the table. Try and include the opinion of a few others from your society or neighbourhood.
3. Describe 'Orange' without using the word 'orange'!
Hey, is it even possible? Let's try. Just write 10 lines and describe an orange, the fruit!
__________________
May 18, 2022
1. International Museum Day (Important Days)
Do you think museums are important places to visit? If so, what do you like the museum to have and what would you learn there?
2. Fight for what you believe in (Personal experience)
Most people believe that there are certain things worth fighting for.
Tell about a time when you fought for something you believed in.
3. A strange spaceship just crashed and landed in your backyard. What happens next? (Fun)
Wild imagination, isn't it? Try writing about this!
__________________
May 17, 2022
1. Segregation and recycling of the waste in your city (Research)
Is your city or neighbourhood taking efforts to become a pollution-free, livable one? How is the waste handled? Speak to people in houses and those who collect waste for the community and write about their experiences quoting them.
2. With just two choices, would you rather climb to the top of a mountain or go scuba diving? (Opinion)
Could you justify your choice? Remember, you have only these two options for the day!
3. Describe a master plan that would make your community a better place to live. (Descriptive Writing)
Make a sustainable plan for your community and explain its points with their benefits and why you think that these should be included in the master plan.
__________________
May 16, 2022
1. A campaign that your neighbourhood launched and succeeded (Newsy)
Recently we came across a few campaigns that were small efforts with big impact. Anything that your society or neighbourhood launched recently and received a positive response from people?
2. Students teaching students (Opinion)
Do you think teaching by peers or seniors is fun and yields better results than a teacher teaching? Have you taught your peers or juniors? Share your opinion along with your experience.
3. If pets could talk to each other, what would they say? (Fun)
Imagine a conversation and write!
__________________
May 15, 2022
1. A new walkway/bridge/subway in your neighbourhood (Newsy)
Has something been built recently? Have you come across the news or have you used it? What's your experience.
2. Privacy when I am a celebrity (Imagine & write)
Imagine you are a celebrity. How would you want to be in public? What do you expect from others when they know that you are a celebrity? In your opinion, should the general public be concerned with your private life?
3. What if your family could travel in time (Fun)
Would that be something wonderful or awful?
__________________
May 14, 2022
Take a break!
Please go over the prompts for the 13 days so far and try to find one or two of your interest and write today 🙂
__________________
May 13, 2022
1. Interview a grandparent or a grandaunt/uncle
Introduce him/her to the reader. Ask questions about their childhood, school, hobbies, playtime, customs and practices during his/her time at their home … Put together the interview in question and answer format.
2. Reading a book to a child (Personal experience)
Have you ever read a book to a toddler? Did you just read or dramatised every line? Did you make up any side stories? How did the child react to your reading? Did you love doing it?
If you haven't read any book to a child yet, imagine how would you do it and write about it!
3. If you are to party yourself alone … (Fun)
Share your ideas for such a party!
__________________
May 12, 2022
1. Electric vehicles – Are they solutions for pollution? (Data explainer)
Put in information on Electric vehicles (EV), compare it with traditional petrol/diesel/gas vehicles, the market for EVs, global trend, production and use in India. Write a piece explaining the idea of EVs as a future commuting solution.
2. One good habit of yours that others should follow (Personal experience)
Good habits improve our physical, emotional, and/or financial
health. Select one of your good habits and write an experiential article
persuading readers to make that habit a part of their lives.
3. A boring superpower! (Fun)
Not all superpowers are exciting. What's the most boring superpower you can think of? How would it be useful?
__________________
May 11, 2022
1. Travel and hospitality in India (News Feature)
People have resumed travelling. on work, on vacation, on pilgrimage. Write a feature with facts, numbers and experience and suggestions from people known to you. Try not to make it your own opinion column.
2. Media and Social media (Opinion)
Social media breaks every news these days. How do you feel when you watch or read the same news later on television or traditional media? How in your opinion should the news in newspapers or digital media be reported in the times of instant news via social media?
3. Write a letter to the future you (Fun)
Wouldn't it be fun to see you in future? Try writing a letter to the future you today!
__________________
May 10, 2022
1. Encroachments in your neighbourhood (Newsy)
Have you come across any? Have you seen shops occupying the footpath as an extension to their space or people storing building construction material on the usable road? Find something in your area and write about it along with what the citizens are doing towards clearing them
2. Yawning and embarrassing moments (Personal experience)
It is common that we yawn even after a good night's sleep. We find ourselves yawning at our desks or when someone is talking about something important or someone next to you was yawning. Tell us about the embarrassing moment that you later wished you could have somehow avoided it!
3. Write on starting with "It was an unusual Tuesday morning when I heard…"
How would you take this sentence forward to write an interesting article? Write on!
__________________
May 9, 2022
1. Weekends and traffic on the roads (Newsy)
How is the vehicle movement on the roads on weekends? Are there any patterns? Do a survey with people who drive or travel during the weekend and try to write a news piece
2. Creating something new (Personal experience)
Tell about a time when you created something new that gave you much pleasure
3. If there was no zero! (Fun)
Imagine we never had 'zero'. What would things be like!
__________________
May 8, 2022
1. EdTech industry in India (News feature)
Online education in India, is estimated to a 2 billion dollars worth industry. You might have come across information about such edtech companies. To name a few, Byju's, Vedantu, Toppr. Try and write a news feature on the industry, the companies, their courses, their promises and the need for such an industry if any. Take care not to make it an opinion piece.
2. Being responsible (Personal experience)
Children often are cared for by elders. As we grow older, we take on more and more responsibility. Right from taking care of a sibling or a grandparent. Describe a time when you were given a responsibility that you were not ready for.
3. Invent a new day of the week (Fun)
What would you call the day? Where would you like to place it p before Sunday or after Friday..? What would you want to do on that day and want others to do?
__________________
May 7, 2022
1. India's Venus mission (Newsy)
After Mars, India is reaching Venus soon. Have you read the news about ISRO's mission recently. Write what you have read and understood.
2. Are first impressions the best? (Opinion)
First impressions are often very important. Share your opinion on this saying. Also, tell us about a time you got (or gave) the wrong first impression.
3. Formula for living forever. How would you react to it? (Fun)
If someone discovered a medicine/formula that would enable us to live
forever, would that be a blessing or a curse? Use specific reasons
and examples to support your answer.
__________________
May 6, 2022
1. Summer rains. Is there any now? (Newsy)
In the peak summer, Delhi and Bangalore get quick showers. A cyclonic circulation over the Bay of Bengal is observed and coastal states are on alert. Find what is the weather like now and how is the summer, rains and cyclones now. Make it a news piece.
2. Getting school books and uniforms during the summer vacation (Opinion)
The exams get over and the vacation begins. In a week or two, schools announce dates to get books, uniforms and other accessories. How do you feel when the call comes from school – excited or 'oh, not so soon'? Share your opinion on when and how schools could distribute the books for the next year.
3. Write something using all these – calendar, headphones, stapler, strawberry and spoon (Fun)
Try and use all the words and write something – a story, an essay or just a fun piece.
__________________
May 5, 2022
1. Teens and mental health (Feature)
Have you noticed young people like you with anxiety or feeling low? Is it something you talk about with your peers? What do you think adults know about the mental health of teenagers? What should they do about them? Find some statistics. And probable solutions to the feelings of excessive worry, hopelessness or profound sadness.
2. What's up in IPL 2022 now? (Column)
Cricket fan? How about writing a piece on the IPL season, the finals of which are scheduled end of this month? Write about the happenings, performance of players, and unexpected twists and turns. Challenge yourself not to use 'I' in it!
3. What happens after the end of your favourite book or movie? (Fun)
Take the story of a book you read recently. If you want the story to continue, how would you want it to move ahead? How would you like it to end? Share your creative thoughts!
__________________
May 4, 2022
1. Shortage in supply of vegetables in summer (Newsy)
Tomatoes are in news now. The price of them goes through the roof just after three months of Rs. 10 per kg. Write a news piece about the why and what of tomatoes and the price. Talk to your vegetable vendor, your parents and neighbours and make a news story. Bring in the use of tomatoes in daily food, compare it with other seasons and vegetables, and let's have a tangy, juicy story!
2. Caring for an animal that lost its way (Personal experience)
Have you ever come across a cat or a dog that lost its way and reached your place? What did you do with it? Did you keep it as a pet or united it with its family? How did your parents and siblings react to it? Tell us the story!
3. Make up a new planet and describe it (Fun)
Bored of living on the Earth? Why not create a new planet with all that you want to see on it. And describe, why you want to have them in the planet.
__________________
May 3, 2022
1. Today is World Press Freedom Day (Opinion)
May 3 is observed as World Press Freedom day. A free press means the freedom to seek and impart correct information without any intervention by people and governments in power. This year the theme for the day is 'Journalism under Digital Siege.' You might be reading news in digital media that is disseminated not just for information, but for reactions from the readers many times, thus provoking the readers to take sides. Take time to write why the press and news media should report accurate information without fear and what journalists should be doing honestly.
2. Turbulences during a flight (personal experience)
Does travelling on an aeroplane excite or scare you? How do you feel when there are turbulences in mid-air or while landing? Share your experience!
3. You just ate a cookie that turned you 10 feet tall. What do you do with his height now! (Fun)
Imagine and share your funny story!
__________________
May 2, 2022
1. News in data (Newsy)
We see numbers and data in most news pieces. Agricultural production, COVID and vaccination, temperature and weather, GST and revenue, Exams and pass percentages, jobs, foreign exchange, wildlife and natural resources … Let's try our hand in writing a news piece analysing data. Take any field and write a piece.
2. The piece of media you read, heard or saw that inspired you (Opinion)
News in any form these days is about breaking news – be it on television, radio, newspaper or the internet. But, some news leaves a thought or inspires us. Did you come across recently any such news recently? Share it so that your peers too get inspired!
3. What if the painting you just created came alive? (Fun)
Do you draw or paint as a hobby or when you are in a mood to create something? Imagine your painting comes alive in front of you! How would you feel and interact with it! Tell us.
__________________
May 1, 2022
1. Sizzling summer and heatwave (Newsy)
Reports say that this year's April temperatures across the country are the highest since 1900. The meteorological department puts out alerts regularly on the weather conditions. Write a news article citing reports. Take care, not to make it an opinion piece!
2. 'Yes' with a 'but'! (Opinion)
Many times with parents or dear friends, 'yes' comes with a 'but'. How do you take it? Accept it, avoid it or confront it?
3. A favourite piece of furniture in your home (Fun)
Do you have one? Do people at home look for you in 'your' place? Tell us why you choose it and what makes it special!
---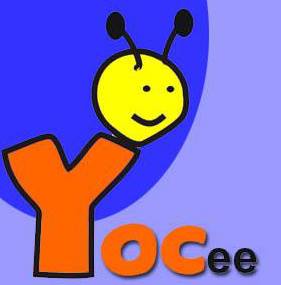 When YOCee's student reporters get busy, the team at YOCee's small office takes up the role of the reporters, does the rounds, writes copies and files reports. The team also posts useful info and ePapers produced in-house.